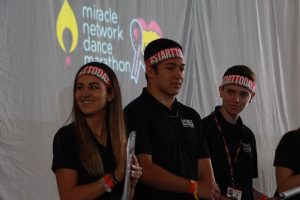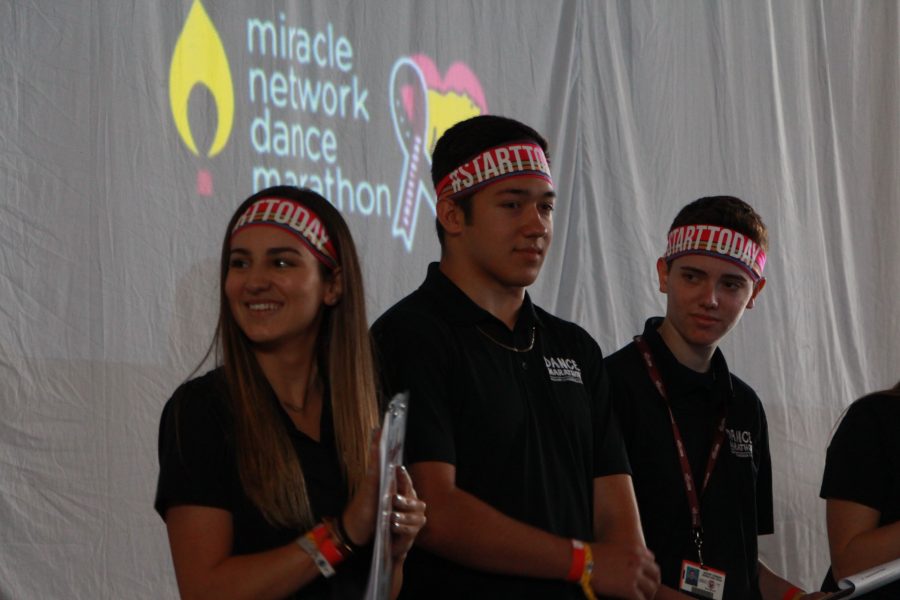 On Saturday, April 21 Marjory Stoneman Douglas High School held its first Miracle Network Dance Marathon. The event took place from 12 to 5 p.m. in the gym on campus. Participants either paid $10 at the door or pre-registered with a team and paid $15 which included a free shirt; participants had a fundraising goal of $100 each.
A Miracle Network Dance Marathon is a movement powered by both college and high school students around the world. Students work throughout the beginning of the year up until the event to fundraise for the cause. The Dance Marathon can last between five and 40 hours, as participants come together for their local Children's Miracle Network Hospital.
With it being her first year teaching at MSD, English teacher Brittany Sinitch brought her drive and passion for Dance Marathon to the school. Sinitch previously was an involved member on the executive board for the Dance Marathon at Florida State University.
"I got hired to work at Stoneman Douglas the day of my Dance Marathon at Florida State, which is like the day of miracles, and I was like it's meant to be; I have to bring it to Stoneman Douglas," Sinitch said.
In order to pique students' interest in the event, Sinitch held interest meetings, in which she picked members for her executive board and got a feel for the students attraction to the initiative. Social media accounts were set up on Instagram and Twitter where updates about meetings, the cause itself and the event were posted.
"We did a general interest meeting at the very beginning of the year back in August, and I thought two people were gonna show up, and it ended up being around over 100 students that showed up, and they immediately started applying to be on my executive board, and once we had the executive board, it all went into place from there," Sinitch said.
The event was scheduled originally to be held on Feb. 24, but was pushed back and rescheduled due the tragic event that occured 10 days prior. The executive board came together and decided to postpone the event.
"I, as the advisor, didn't have my classroom anymore, and there were a lot of things in there that we needed, but with time and patience, we knew that this was something that we still wanted to do," Sinitch said.
There are different roles for participants in Dance Marathon. Delegates represent the clubs within MSD and try to get people in those clubs to sign up and help fundraise. Morale captains help to induce excitement during the marathon and dress up. They learn the dance ahead of time in order to be able to teach it. The executive board works with Sinitch to plan the event and put it all together.
The event had multiple activities such as face painting,photo booths and speakers scheduled for different hours. Every hour on the hour a miracle child and their family told their own personal stories about their experience with childhood illness to reinforce what the students were dancing for. In the beginning of the event, the executive board and morale captains taught a line dance and then after the miracle story everyone participated in the line dance.
"Everyone came together and did this one dance all together, and it's just very symbolic of everyone working together to reach this final goal," executive director and junior Sarah Schmidt said.
Along with the miracle stories and the line dance, senior and morale chair Angelique Meneses performed the song, "Rise Up," by Andra Day. Folk singer David Francisco from American Idol came and performed as well as telling his story.
"From standing on the stage and watching everyone come in and just seeing everyone smiling and laughing, that was just the best experience to see everyone happy. The past few months have been very difficult, and I know that everyone who went had a great time and that honestly means the world," Schmidt said.
The final reveal was scheduled for 5 p.m. when all members of the executive board stood on stage and slowing one by one held up a sign with a number while the song "Found/Tonight" by Ben Platt and Lin-Manuel Miranda played throughout the gym. The signs gave way to the amount of money that MSD had raised for Miracle Network throughout the year and the event.
"I think that Dance Marathon gave students here a lot of hope, and that's something that we wanted them to be able to walk away with — a feeling of being able to stand for those who can't and find light again after a tragedy and something to give them hope and a reason to stand and to keep fighting for those who need us the most," Sinitch said.
The original goal set by Sinitch and the executive board was $12,000. In the end, Dance Marathon at MSD raised $66,283.17 for the kids and broke records in the process. MSD is the highest fundraising high school for their first year Dance Marathon.