Junior Samantha Grady continues physical and emotional recovery
Anna Dittman
April 26, 2018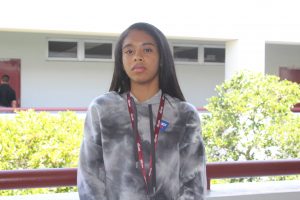 Junior Samantha Grady continues her physical and emotional recovery since the events of Feb. 14. Grady was wounded in the chest from a ricocheted bullet and grazed in the back. Her stay at the hospital lasted only a few hours since her wounds were not life-threatening.
"I only have scars now, but it itches like crazy, and sometimes when people pat me on the back it hurts," Grady said. "But besides that the healing process has been pretty good."
However, the emotional recovery has been a more difficult journey. The people in her life have been aiding in her recovery, making her emotional improvement easier as each day goes by, but the internal trauma and having to witness the shooting itself has scarred Grady and many other students.
"Everyone has been supportive and asking if I've been okay," Grady said. "My parents have been helping a lot, and I also have a therapist. My church family has also definitely been there for me. They are the biggest support. But for the most part my church family and my parents have really helped me get through everything."
Grady returned to school on the first day back on campus with the rest of the students on Feb. 28. However, her return was a sign that it would take time for her to adapt to being back at school. After all the commotion of the first day back, Grady decided to stay home the rest of that week.
"I looked out the window in the orchestra room, and there was like 50 to 100 cops just standing on the hill, and that just terrified me for some reason," Grady said. "Although it was supposed to be comforting, it really wasn't. It was okay getting used to people again; getting used to being surrounded by such a large amount of people; getting used to being at school for a longer period of time. It was all an adjustment, but it was a little too much to handle."
So far, school has been strange for Grady, but the adjustment continues as she begins to feel safer and more capable of handling her PTSD. With all the support and steady healing, she is leaning on a more positive outlook toward Marjory Stoneman Douglas High School.