Men's cross country team competes in Bofshever Northwest Community Cross Country Classic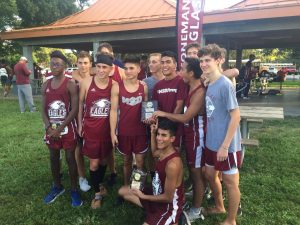 The meet began at 4 p.m. and had tough conditions; including the scalding heat, humidity, and high grass. Yet, in the midst of these hardships, the team managed to win their division with a huge lead.
Defeating Coral Glades High School, the score was 60-31. In addition, five of the top 10 places were held by the team. Captains and seniors Joshua Charo and Austin Freese led the boys, placing second and fourth overall, respectively.
"The support was amazing as it always is. Having people cheer for you while you're working hard to achieve your goal in anything is a blessing," junior Jorge Zapata said. "I always try to have a mindset that I will perform well. I believe keeping a positive attitude will help you endure any obstacle you want to overcome."
Zapata is only in his first season of cross country, yet he impressed the team by placing seventh overall, with a time of 19:15.02.
"Although I am still learning and adapting to the sport, but I feel as if I did the best he could," Zapata said.
Following Zapata, was sophomore Alexander Miller who placed eighth with a time of 19:23.91.
"I expected to do well because I had the right mindset going into the race," Miller said. "I wanted to place in the top 10, so I decided that's what I would do."
Miller's teammates, coaches, and family motivated him to accomplish what he believes was one of his better races of the season. He also mentioned how the team supports each other on and off the field and motivated each other into doing their best in this important meet.
Junior Leo Scopino held the final top 10 spot for the team, placing tenth with a time of 19:54.64.
"I was very proud of his team and all their hard work," coach Robert Oelschlager said.
"The boys' win was so sweet, as they defeated Coral Springs High School for the Championship for the first time in several years," Oelschlager said.
The team is now preparing for the Boca Bobcat Invitational on Saturday, Sept. 22 at South County Regional Park, along with their upcoming district meet on Tuesday, Sept. 25 at 4:30 p.m.