MSD gets a makeover for the start of the new year
Brianna Fisher
October 17, 2018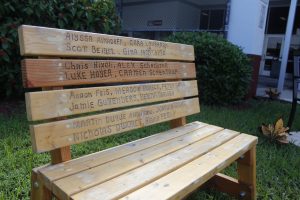 To start off a new school year with a new attitude, many organizations and businesses cleaned and beautified Marjory Stoneman Douglas High School's campus. The work included new paint on the outside walls, landscaping and rocks.
"I think it is important, especially with the new paint and some beautification things going on around campus, that it makes the place more homey for kids and that they feel like it's being up kept and looks good and makes them want to come to school because its not run down and grungy," principal Ty Thompson said.
To give the whole campus a new atmosphere, an alumnus reached out and donated enough paint from Sherman Williams to repaint every building. The walls have been altered to represent the school's colors, which are burgundy and silver.
"The school looks a lot cleaner with the new paint," junior Rachel Taylor said. "I think it was a great way to come back to the school and to give it a new feel."
Additionally, Churches United, an organization made up of local churches including Park Ridge and Coastal Community, donated new landscaping for the courtyard. The donation included new plants surrounded by bricks to improve the appearance of the campus.
"The bricks allow kids to sit down during lunch so that not as many kids are sitting on the floor," Office Manager Teresa Basilone said. "Seeing how beautiful it is just makes me feel better. When I see that beautiful garden over there with the rocks I feel like I'm in a spa. You feel like you're in a nice place and just renewed."
When they came back for the new school year, many students noticed an apparent difference in the look of the school. They felt that this renewed their perception of campus, and that it brought forth a serene atmosphere.
"The landscaping is beautiful and gives me a new mindset," junior Noa Golan said. "I'm super thankful for all of the donations that help clean up the environment and declutter the school and my mind."
When repainting the walls, workers accidentally painted over club murals for school clubs such as DECA, Key Club and yearbook. This upset some students and sponsors because it had erased all of their hard work on the paintings.
"It made me upset," yearbook advisor Sarah Lerner said. "I don't know who did it, but I asked at the end of last year for them not to. When I saw it, I told Thompson, who didn't realize either, but it just made me sad."
Other clubs did not mind that their designs were painted over. Some clubs like DECA are working to redesign new artwork to be displayed.
"Honestly, if it makes the school seem cleaner, I'm all for it," DECA officer and senior Sam Goldberg said. "As long as it's for change and helping the students heal, then we don't mind."
Joining in on the beautification, Publix also wanted to help. Workers revamped the entire front quad area of the culinary classroom, replacing all the sod, putting in palm trees, planting two herb gardens that run down the sides and placing blocks in the center of the gardens. They also helped to beautify the front of the classroom area facing the courtyard by replacing all of the dead grass with lava rock.
"I love [the garden]. It's nice being able to walk outside and be able to be around nature," culinary arts teacher Ashley Kurth said. "We have a plot over by Marjory's Garden that we take care of, but having people go out there was just really difficult. What I have noticed is that it is nice to have the garden right here to go have a lesson outside or have a couple kids grab some basil themselves, then come back inside."
Churches United plans to come back to MSD to finish placing lava rocks in the courtyard. With their help, both sides of the courtyard will be symmetrical, enhancing its overall beauty to students.
"I think [the beautification] has been awesome," Thompson said. "Unfortunately with our situation, it's nice to see that there is good in the world and that people are coming out and providing support that we need and are able to donate these things to help beautify the campus. It gives me hope that there are lots of positive people out there."
While everyone has different methods of relaxation, a change in their environment is a common theme. Whether that is a new room or a trip outside, a new environment can create a feeling of calmness and tranquility. With the addition of the new paint and landscaping, these changes are helping some students and faculty find just that.
This story was originally published in the October 2018 Eagle Eye print edition.