Broward voters approve half mill tax increase to fund schools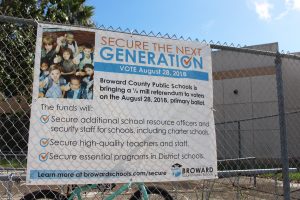 On Wednesday, Aug. 28, 2018 voters approved the Secure the Next Generation Referendum to raise money for Broward County Public Schools. Starting in 2019, Broward County homeowners will see a half millage increase in their property taxes.
Local property taxes are calculated using millage rates. One mill represents $1 in tax per $1,000 of tax-assessed value. Each city in Broward County pays a different overall millage rate.
In Coral Springs, residents pay based on an overall 20.614 millage rate and in Parkland, residents pay based on a 18.2669 millage rate. All Broward County homeowners pay the same millage rates for county services like county operations (5.4623), public schools (6.4740), and children services (0.4882). 
Broward County Public School's current 6.539 millage rate is the one of the lowest, compared to its neighboring counties. For example, the school board millage rate is 6.769, in Palm Beach County, 6.994 in Miami-Dade County and 7.470 in Orange County.
For homeowners with a residence valued at $240,000, the half a mill increase equates to a $120 per year increase in their taxes. This increase is expected to raise approximately $93 million per year.
The extra funding will be used to fund pay raises for teachers, upgrades to school security and extra school resources such as social workers and guidance counselors. Seventy-two percent of the funds are allocated towards teacher and staff compensation, up to 20 percent is allocated to security and 8 percent is allocated to school resources.
Liberal Arts math teacher Kim Krawczyk agrees with the intended goals of the referendum and views it as vital to the success of public education in Florida.
"If you can't pay teachers, you can't keep them. If you can't keep good teachers in your school, the system fails," Krawczyk said. "If your school system fails, then the property value will go down."
The county has not specified exactly how the funds allocated for compensation are going to be distributed among teachers and staff, but have given a 6 percent raise estimate for teachers. The Broward Teacher's Union will negotiate the distribution of the money.
Negotiations have not yet begun.
Culinary Arts teacher Ashley Kurth anticipates that there could be discord among teachers about how the money is distributed.
"That's gonna be another argument as well — who's got the hierarchy of the amount of years they've put in, how much they should be getting verses other people that are coming in," Kurth said.
The 20 percent that is reserved for security is intended to comply with the Marjory Stoneman Douglas High School Public Safety Act. The act allocated $400 million of the existing education budget for school safety initiatives and mental health treatment.
The act requires that every school in Florida have a school safe officer on campus and provides $162 million to fund that initiative. However, the funding from the state is not enough to fund school safe officers on every campus in Broward County. The Secure The Next Generation referendum allocates local funds to make up the budgetary difference. 
"It's mostly better training of security and continuing to increase to make sure that you have proper coverage throughout the school for the needs that need to be met," Kurth said.
The approved millage will start on July 1, 2019 and continue until June 30, 2023, but the funds will not be available until July 20, 2019. According to Florida state law, local tax referendums can only span four years. To continue the millage increase beyond 2023, Broward County voters would have to approve a new referendum. 
This story was originally published in the October 2018 Eagle Eye print edition.