Updated security measures create new normal
Einav Cohen
October 17, 2018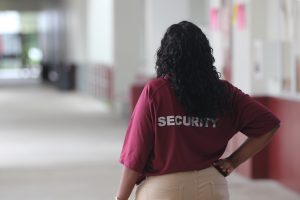 The security measures enacted at Marjory Stoneman Douglas High School have continued to evolve since Feb. 14. Some have been abandoned, like clear backpacks, and some have been put on hold, like portable metal detectors. Other measures, such as ID badges, hallway passes and bag searches before school, have continued.
Additionally, several new security measures have been implemented for the 2018-2019 school year, including the installation of new gates, additional cameras, an upgraded surveillance system, a webcam to survey the security personnel, an increase in security personnel, new classroom door locks and upgrades to the single point of entry in the main office, which is utilized once the school day officially begins.
Three new gates were installed over the summer to allow one point of entry during the regular school day. Two of the new gates were installed in the north parking lot where seniors enter school — one between the 700 and 800 buildings and one at the 1300 building. The third gate is located in the south parking lot for students walking from North Community Park, students riding the bus and faculty entering campus. In the morning and at the end of the day, security personnel monitor each gate, checking students and faculty for proper identification.
"I think that the new security measures at school are for the most part effective in the way that when we walk into school they check our ID badges to make sure that we have a Stoneman Douglas ID," junior Helen Abbott said.
If a student does not have a school ID, they are denied entrance into school at the gates. In this case, students either need to return home to retrieve their identification, or they must enter through the main office and wait to a receive a paper version of their information. Students are given two warnings for forgetting their identification. Each additional time, they will be issued a new school ID and obligated to pay a $5 fee.
"Although it [$5 fee] might be annoying for forgetful students, I think that it makes the incentive to wear the school IDs much stronger than if there were no consequence," junior Raymond Wong said.
A significant change to campus is the number of security personnel. In the past, the team consisted of seven monitors and one security specialist, contrasting significantly from the current 12 security monitors and three security specialists, making a team of 15 total security personnel. MSD also has three school resource officers, an increase from the one SRO in previous years.
New security cameras are now observed by a designated campus monitor throughout the school day. Additional cameras were added to eliminate any blind spots on campus.
Entrances to the front office remain locked at all times. Campus visitors must wait to be buzzed in to the front office in order to enter the building.
Classroom doors are also locked at all times. The locking mechanisms were changed over the summer so that teachers can access their classrooms with their keys, but do not have to remember to re-lock the door because it always remains locked.
Even with all these additional measures, administration encourages students, parents and faculty to remain vigilant and report suspicious activities or threats.
"The number one thing that I would say we have been really successful with is our continuing campaign that if you see something, say something," Assistant Principal Daniel Most, who oversees school security, said. "As a matter of fact, I was just talking with a parent who thought they saw somebody on campus who wasn't supposed to be here. They responsibly brought it to our attention, and we investigated it and determined that it was a vendor."
As a tool for students, parents and staff to report suspicious activity, the Broward County sheriff's office has created an app to assist this process. The downloadable app for cell phones is called Safer Watch. It allows users to report non-emergencies, suspicious activity and anonymous tips directly to the Broward Sheriff's Office.
The enactment of new security protocols were introduced through a combination of efforts from administration, students, teachers, parents and the community as a whole. Input from the district, Broward Sheriff's Office, public forums and School Advisory Council and School Advisory Forum meetings, was taken heavily into account.
"They kind of look at all those things and see which ones make the most sense for our school because we still want to make sure we're a school and not a jail," Most said.
According to Principal Ty Thompson and Principal on Task Assignment Teresa Hall, Most has driven a good portion of the changes to security measures and protocols this year. Most, who joined the MSD administrative team over the summer from Everglades High School, took over as the assistant principal supervising school security.
Assistant Principal Winfred Porter, who previously supervised school security, expressed his confidence in Most.
"I enjoy working with Mr. Most; he is very knowledgeable. I trust his judgment, he is a great addition to our team," Porter said. "I respect him a lot; I respect what he brings to the table, including additional security personnel."
Not all changes remain in the hands of MSD administrators. On June 4, the Broward Community League of Cities' School and Community Public Task Force released a 93-page report suggesting changes specific to both MSD and the rest of the school district. One of those recommendations included the installation of portable metal detectors.
After meeting with security experts, the idea was put on hold so the logistics of the implementation could be studied further. The core of the issue involved the logistics of moving 3,300 students through metal detectors in a timely manner and still be able to start school on time.
"At this point, as far as I know, it is still something that's being discussed, but as everyone knows, we do not have any metal detectors at our school right now," Most said.
The Marjory Stoneman Douglas High School Public Safety Act passed by the Florida legislature on March 5 has also driven changes to safety regulations at MSD. The act mandated that code red drills be held at all schools as often as fire drills. State law requires schools to have two drills within the first two weeks of school and one every month throughout the school year, for a total of 10 drills each year.
The emotional trauma that these drills bring many students and staff at MSD has been brought to the attention of Broward County Public Schools officials and possible solutions are being discussed.
"I think it is very tough on our students and staff to have to go through that many drills, obviously, it's trying to walk a delicate balance of making sure that everybody's prepared and knows what to do in an emergency, but at the same time, not trying to cause unnecessary stress on the students and staff," Most said.
The false alarms have caused the district to request waivers to remove some of these required drills for MSD. The district is still waiting for responses from state officials.
"In the case of Stoneman Douglas, you're causing trauma every time you have an alarm, and we don't want to do that," Superintendent Robert Runcie said at a workshop, according to a Sun-Sentinel article published on Sept. 25.
Security protocols at MSD will likely continue to evolve and have become part of the new normal that school staff and students experience daily.
This story was originally published in the October 2018 Eagle Eye print edition.