Senior Cameron Leonardi follows his dream to perform in professional orchestra
Yuval Alter
January 11, 2019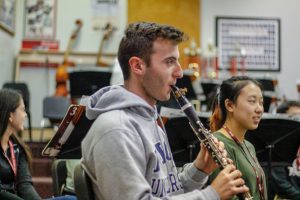 When he attended Westglades Middle School, Cameron Leonardi did not anticipate that a simple elective choice would lead to his life's passion: music. Now a senior, Leonardi is hoping his years of practice will kickstart his musical journey in college, as he works to transform his hobby into a career.
"My favorite part [of playing] would be performing," Leonardi said. "There is no better feeling than finishing a great performance and knowing all of the hard work and countless hours of practice have paid off."
Leonardi has developed his talents in Marjory Stoneman Douglas High School's Eagle Regiment, a rigorous and time-consuming program. To many, marching band is a hobby and an enjoyable elective for their time in high school, but for Leonardi, it is a pathway to a future career in music.
"I want to major in music performance in college and hopefully be in a professional orchestra or chamber group when I am older," Leonardi said.
Leonardi's love for music began in middle school. He had originally only signed up because all of his friends decided to sign up for the course. However, once he learned to play the saxophone, he fell in love with music, leading him to continue on in the program.
He eventually moved on to a higher level band in eighth grade, where he learned how to play the clarinet and has been hooked ever since.
Leonardi had the opportunity to meet his musical idol, Anthony McGill, who is the principal clarinet of the New York Philharmonic, when he attended a masterclass that McGill taught.
"Anthony McGill has been my favorite clarinet player, and idol, since I've been playing the instrument," Leonardi said. "He is someone whose playing I envy so much and someone who I aspire to be."
The passion Leonardi has for the clarinet and for music has brought him far in the pursuit of his dream. The strenuous schedule of MSD's Eagle Regiment leaves little space for free time and school work, so Leonardi spends his summers pursuing music programs, such as the Boston University Tanglewood Institute.
Located in the Berkshire Hills of western Massachusetts, Tanglewood is a music academy that gives students the opportunity to perform in large ensembles and chamber groups while being coached by distinguished musicians.
"I got really serious about clarinet and so I needed something that was gonna force me to practice and push me. Tanglewood is a really intense and highly regarded music institute that forces you into an environment with other kids that are equally or more talented and passionate about music and that is all it is for four weeks," Leonardi said.
Leonardi's constant push for perfection has led him to compete and win spots in Broward County's All-County Band the state of Florida's All-State Band. Students must apply and then audition for a spot in both of these groups.
"I have been in All-county for the past six years, and I have made it on alto saxophone, baritone saxophone and clarinet," Leonardi said, "If you make it on more than one instrument, which they do not tell you, they pick which instrument you are going to play for that year."
Over the six years that Leonardi has been playing in the All-County Band, his instrument has varied between the three.
In the future, he hopes to be accepted into Rice University, the New England Conservatory of Music or the Juilliard School. In order to make that a reality, Leonardi is taking additional steps, which includes taking lessons from esteemed musicians Richie Hawley from Rice University, Michael Wayne from the New England Conservatory and Jon Manasse from the Juilliard School, in order to pursue his dreams. 
This story was originally published in the January 2019 Eagle Eye print edition.