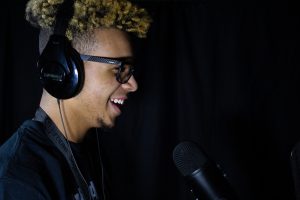 Every high school student has an individual passion for something. Whether it's a club, organization or talent, students have ways to express themselves. In junior Austin Roy's case, his passion is rapping. Through the streaming platform SoundCloud, Roy has released multiple tracks and albums, which explain and explore his feelings and thoughts.
He has used SoundCloud as a creative outlet for himself, rapping under the alias "Problematic." His own personal struggles that he has faced inspired this name.
"When I was starting out in music, I was dealing with a lot of problems at that time and trying to look for a way to let it out," Roy said. "Music helped me do that."
Initially, rapping was simply a hobby for Roy; however, his experience with SoundCloud inspired him to take his passion to a new level. As a freshman, he started making music on Garageband and then later transitioned to using other more sophisticated software, exposing him to more professional studio equipment.
Currently, Roy has around 370 followers on Soundcloud and is a verified user; each of his recordings garnering at least 1,000 plays.
He plans on expanding his audience and working with his management team to move higher up in the music industry. He is managed by his parents, as well as his uncle, who is finding a professional studio in Miami to advance Roy's path in music. Roy's friends, juniors Alex Azar and Alex Riveira, are helping Roy in his quest for reaching a greater audience.
"He makes the music, and I promote," Azar said. "I contact as many people as possible and try to get that word of mouth going on, hoping to increase views and maximize exposure."
Although he has just started taking rapping seriously about a year and a half ago, Roy believes his music has evolved tremendously since the eighth grade.
"Over time it's gotten better and is starting to reflect more and more what I am thinking," Roy said. "Before it was just content to put out because I liked the way it sounded, but now it's also getting emotions out too."
Through his lyrics, Roy expresses his thoughts on every day drama, from girls to fake friends. Roy feels his work is unique in the way it highlight his true feelings. In finding his distinctive sound and style, Roy drew from rappers he looked up to in his daily life.
"My inspirations would have to be Travis Scott and Frank Ocean, just anybody with a similar type of sound," Roy said.
Roy recently came out with an album called "The Dark Place" consisting of nine tracks. One of his most popular tracks,"NO ONE, NO MORE," racked up to more than 10,000 plays.
He looks forward to his future in the music industry and plans on releasing a mini mixtape with a couple of his friends later in the school year.
This story was originally published in the January 2019 Eagle Eye print edition.