Sunrise Ikea's loyalty team gives MSD Drama classroom a makeover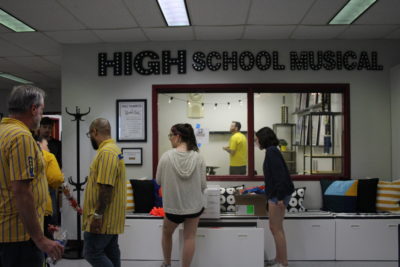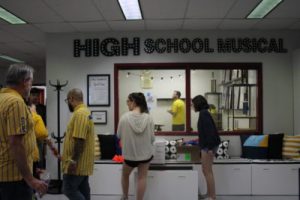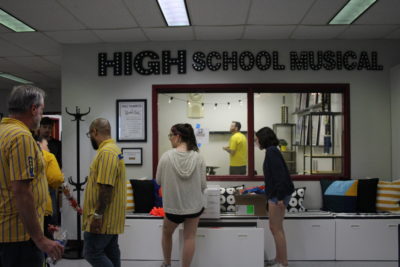 On Saturday, Feb. 2, 2019, Ikea's loyalty team and other Ikea workers volunteered their time to complete a makeover of the Marjory Stoneman Douglas High School drama classroom.
After the shooting on Feb. 14, 2019, employees at the Ikea store in Sunrise, Florida noticed that some teachers needed to furnish new rooms after they lost their belongs in the 1200 building, and they wanted to help. The loyalty team from Ikea contacted MSD last year to work as ambassadors to help the school directly.
Their first project was to give the Student Government Association room and storage closet a makeover, which they had completed near the end of the last school year. When that was completed the loyalty team already had their next project in mind: the Drama room. Along with the Drama room, Baptist Health partnered with Ikea to give the school's Wellness Center a makeover as well.
Jenny Bencomo, furniting consulting for Ikea Sunrise and a part of the loyalty team, explained that Ikea wanted to brighten up the places in the school that bring joy to the community. After helping the makeover for SGA last year, she thought that drama program is one of the most lively clubs at our school and came to the decision along with many others, that they would be the next project.
"We went around the school and saw where we can make a big impact. We're coming back around a year later, continuing that community engagement," Jonathan Coradin, the loyalty Manager of Ikea, said, "It's not about doing one big thing, big project, once, but it's about being good neighbors throughout the year and ongoing forward. Once things fall out of the headlines and its not as prevalent––we want to make sure that we are still there. We are committed long term."
The process of putting a project like such together can be very time consuming. It begins with a design, which Bencomo and the business team take the leadon. They come to the school to take measurements and pictures of the space. Then they brainstorm to determine how they can better the area.
Once they create the plan, it is given to the store management team, where the costs and designs are presented. As soon as the store management team approves the proposal, the loyalty team sends it over to the teachers and students to receive their feedback. Finally, once all the feedback is deemed positive, a final plan is agreed on that Ikea can use to get to work on the room itself.
"The biggest inspiration is you, everytime we look at everything, we have you [the students] in mind," Bencomo said. "The spirit of you guys is completely in every inch of this [Drama room's] design, and we hope you love it. You guys truly mean a lot to us."
The logistics team of 30 people start off by doing the packaging and delivery.  Ikea's home delivery company donated man power, unpaid hours and an assembly system. The on-scene crew is consisted of about 20 people, who were either workers on the loyalty team or workers who responded to Bencomo and Coradin and worked as volunteers.
Charles Wing, one members of the Ikea loyalty team, was accompanied with Chasen Crooks who volunteered to help put the room together while organizing the supplies
"Ikea's mission statement is to create a better life for the many," Wing said. "We're here doing some community work for a great cause. This is our second project here and we've done a lot of work with Broward County Public Schools, but naturally this project and the project we did here previously is a little closer and nearer and dearer to our hearts; anything that we can do for the students here to make them feel more comfortable, and make their lives better is a great thing."
From the relationship that Ikea made with MSD in the past, they wanted to continue on the path of giving back by pursuing more projects that would benefit the students and staff at MSD.
"I just came to join and put smiles on your faces," Crooks said. "The reactions were priceless; I'm really glad that we were able to do something.
As soon as the room was completed and the items were assembled and put in place, several MSD drama students got a first look into what would now be their Drama classroom for the rest of their MSD Drama student careers.
Senior Kelly Mathesie along with four other Drama students assisted in the organization of props and costumes in the new storage areas assembled by Ikea.
"When they picked Drama it was so amazing because the area that it was before was such a mess, and it had props everywhere, and everything was all cluttered," Mathesie said. "Now there is a ridiculous amount of storage where everything can be perfectly organized, and I know Hertzfeld is going to freak out and love that."
MSD Drama will now have a larger and much needed space for all of thee supplies that have been used in the past or will be used in the future.