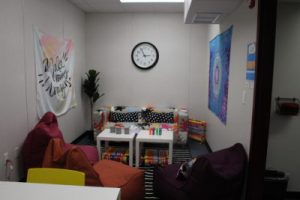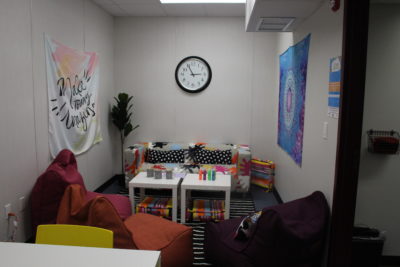 New seating area is filled with color and comfort with coloring utensils for students to express their creativity with. Photo by Einav CohenOn Saturday, Feb. 2, Baptist Health and the Ikea store in Sunrise, Florida gave the Marjory Stoneman Douglas wellness center a much needed makeover.
The wellness center is a place where MSD students go if they are feeling upset or anxious and are looking for therapeutic support. There are multiple on-campus therapists who work in the wellness center, meeting with students when they are in need of assistance. Many students have expressed that it feels institutional, instead of inviting.
MSD alumnus Jon Gaither (class of 2011) works for West Kendall Baptist Hospital and was involved with fundraising for MSD last year after the shooting on Feb. 14, 2018. At the beginning of the year, he contacted Social Studies Department Head Sandy Davis to see what more he could do to help MSD.
"When the tragedy happened, a lot of the alumni were trying to get to action," Gaither said. "I got connected with Sandy Davis and asked her what more we can do as an entity, as Baptist Health South Florida, and that's when she told me everything."
Davis explained to Gaither the long term effects that students continue to cope with, as well as the purpose of the wellness center. Gaither took note that Davis mentioned the wellness center was very plain and bare and that students felt that it was uninviting. When this need was expressed to Gaither, he immediately set out to help.
He brought the initiative to Kate Goldman, Baptist Health's Government and Communications Director, to see if there was anything Baptist Health could contribute, since they are a "community first" organization. With Goldman's approval, they created a plan of action, which they brought to their superiors at Baptist Health, who also approved it.
Goldman reached out to Ikea for a partnership that would allow Baptist Health to pay for any expenses Ikea had while completing the Wellness Center's makeover. Since Ikea had also been supporting the neighboring communities, including a selection of different schools in Broward County, it was only fitting for the two to partner. While on campus completing the Wellness Center makeover, an additional project of refurbishing the Drama classroom by Ikea was also going on.
Baptist Health and Ikea completed the Wellness Center with the help of around 20 volunteers and workers working from 9:30 a.m. to 2:00 p.m. They assisted in the removal of old furniture and the assembly and implementation of the new furniture. The goal of the new furniture and decor is to spread positivity and stimulate creativity. Volunteers from Baptist Health also wrote notes with hopeful and wishful messages, which they left on every therapist's desk.
The wellness center is now full of color and lookings more alive than before. The donation of time and effort from both organizations, Baptist Health and Sunrise's Ikea, will now give students who visit the Wellness Center a better experience when they visit.