Memorial bench and tree placed in the front of the Aquatics Swimplex for Nick Dworet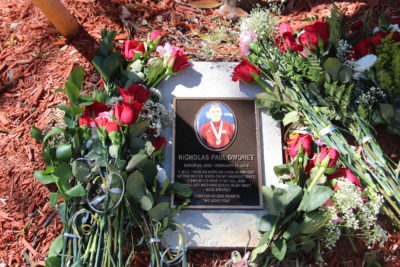 Einav Cohen
February 5, 2019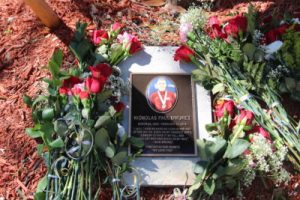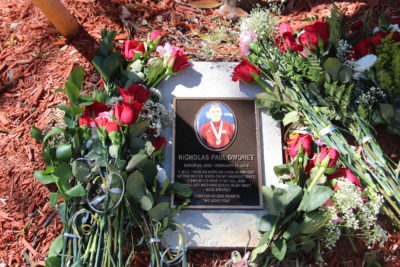 On Sunday, Feb. 3, the Coral Springs Aquatic Center revealed a new memorial located in the front lawn of the facility to honor Nick Dworet, one of the victims of the Feb. 14, 2018 shooting at Marjory Stoneman Douglas High School.
Joe Chiarella, father of Nick's girlfriend Daria Chiarella, assisted in the organization of both the event and creation of the memorial by partnering with the "Swim4Nick" board, a charitable fund meant to financially assist those who cannot afford swim lessons. They requested a bench and tree from the Coral Springs bench and tree memorial program to dedicate to Nick.
"Our son lived on his own terms," Mitch Dworet, Nick's father, said. "He was a dreamer a leader and a mentor. He would brighten your day with a smile; his attitude or just his presence, he had it."
The specific spot in front of the Aquatic Center was chosen in remembrance of Nick's love for the sport swimming. Nick spent the last  elevenyears of his life training and practicing at the pool for five to six days a week. The officers and board of directors of Swim4Nick decisively chose to place the tree and bench in front of the entrance so that future lovers of the sport could sit together after practice discussing what Nick loved most.
The bench was originally placed in a slightly different position, but upon the request of both the parents and the rest of the board, the workers willingly adjusted its placement.
"I know it [Coral Springs Aquatic Center] played such a role in Nick's life as he spent many years swimming here and forming those same lifelong friendships," MSD Athletic Director and former swim coach Lauren Rubenstein said. "We miss Nick very much and we will never know what lasting improvements he would have made on our world, but this bench and this tree is one way that his love of this place can honor his memory and places that he valued. It makes me happy that generations of water-loving youth will also get to spend their time, hanging out with their friends, at the same place that shaped both of our lives."
Along with the bench and tree, a plaque with a photo of Nick, the date of his birth and death,  one of his most inspirational quotes, and a few words from his family are cemented on the ground in front the tree.
The quote reads, "I will train as hard as I can in and out of the water. Even on my hardest days, I swear to give it my all, and will let nothing stand in my way."
Hopefully, his words will inspire generations of future swimmers.