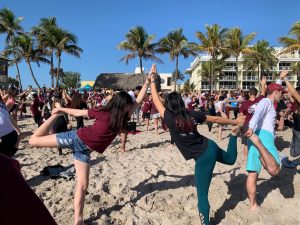 *This story was co-written by Ava Steil and Brianna Jesionowski
On Feb. 14, 2019, science teacher Tammy Orilio and yoga teacher Amy Kenny hosted a yoga session and beach cleanup at Deerfield Beach as an off campus option as part of Marjory Stoneman Douglas High School's "Day of Service and Love." This was one many service projects offered throughout Broward County on the one-year anniversary of the MSD shooting.
"This project was not only to honor those lost, but to help the students heal and cope by means of a community of love and support," Orilio said.
Along with the beach clean up, several other activities took place throughout the day. A yoga session, hosted by the two teachers, began at 9 a.m. with about 220 students, teachers and parents in attendance.
Participants spread out on the sand, listening to the calming sounds of the ocean while working with partners to complete yoga poses.
"It was really awesome because a lot of different people came," junior Ella Giacomini said. "It was a super freeing experience, like a weight lifted off of my shoulders. I feel more connected to my friends now."
After yoga, everyone gathered around as rose petals were placed on the sand, arranged into a heart with the number 17 in the middle and the letters "MSD." Students also released petals into the ocean to symbolize letting go of their unwanted emotions. These displays were placed just before the waves.
"I thought the flower petals were a great touch. They symbolize the love we have for the 17 victims that were taken from us," junior Alexis Nilsson said. "They were also biodegradable so it didn't hurt the beach."
In the days leading up to the event, Kenny's yoga students made their own tiny heart pillows, each containing a special message. At the beach, they were placed together to form one big heart.
"It was really amazing to finally see all of our work displayed like that," freshman Sidney Jenner said. "We really put all our emotions and feelings into the messages on the pillows. It was therapeutic."
The actual cleaning of the beach started afterwards. Buckets and gloves were handed out as everyone joined together and scoped the beach to collect stray items and litter. Within a short period of time, numerous buckets were filled to the brim.
"We found bottle caps, beer cans, plastic forks and spoons," Jenner said. "It was really sad to see how people just leave all their trash everywhere, especially since animals could accidentally eat it."
At noon, people started to head to lunch. Around the beach there are several different restaurants and places to find something to eat. 
"There wasn't really a set time for lunch," freshman Makayla Jesionowski said. "People just kind of came and went as they pleased."
Some people decided to stay at the beach and brought their own lunches to enjoy along the beach shoreline.
"I did see a couple of people that brought their own food," freshman Mackenzie Teston said. "But most of the volunteers went to Burger Fi."
When the volunteers returned to the beach they immediately got back to work.
Several therapy and service dogs were brought to the location to bring some comfort and joy to the volunteering students. They ranged from golden retrievers and Rottweilers, to smaller breeds like Yorkies. Most people crowded around the dogs after coming back with their full buckets.
"Those dogs were so sweet," Jesionowski said. "As soon as they got to the beach, I was all over them."
By 1 p.m. piles of filled trash bags and buckets lined the edge of the beach. Everyone gathered around once more and said goodbye now that the beach was clean. 
This story was originally published in the April 2019 Eagle Eye print edition.