Mocking Jay Review: The Epic Conclusion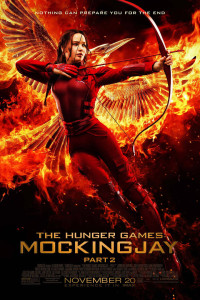 Max Rosenthal
November 23, 2015
The last movie of the heralded series "The Hunger Games" did not disappoint its viewers as the crowd exited the theater cheering and clapping. The late night premiere of the heavily anticipated movie was packed with Marjory Stoneman Douglas students all wanting to find out what would happen in this very famous book trilogy which was turned into four movies.
The movie had plenty of moments where you heard a gasp of shock throughout the room. Some parts in the movie had me looking to my neighbor to ask him what in the world just happened.
The movie was filled with action and tension and at some moments you felt the movie was a bit predictable but they added some twists to it that most of the fans including myself did not expect. The tension grew as the movie went on and you felt like something unexpected would happen every few minutes.
The main character Katniss Everdeen went on a long journey towards freedom for her people which she had started earlier in the series of movies and this movie finally showed if she achieved her ultimate goal. Katniss is also forced to make a decision on who she loves Gale her childhood hunting buddy or Peta her partner since the beginning.
Fortunately, this was not the last showing of "The Hunger Games" movie in the theaters. It will be shown all the time for the next month and I encourage all of the Douglas students who did not go to see it tonight to go see it in the theater as soon as possible.