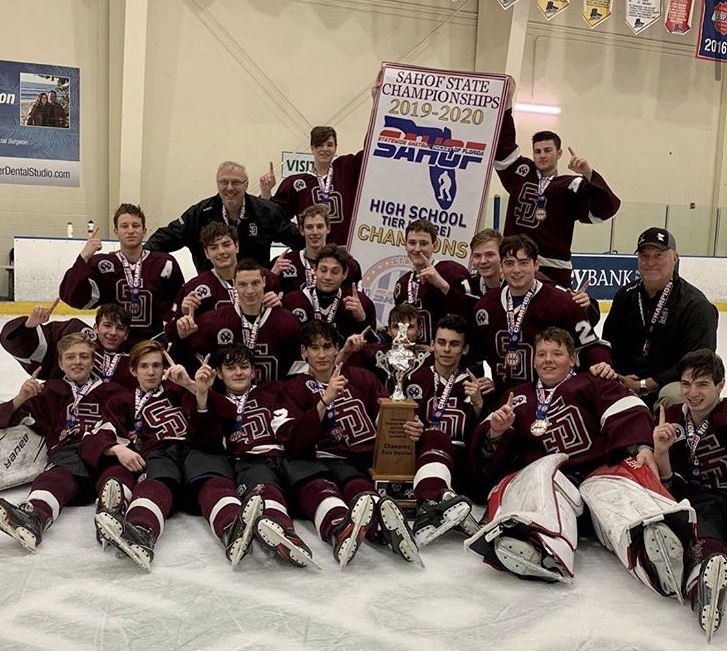 The Marjory Stoneman Douglas High School Hockey team went 14-5-1 during their 2019-20 season with a handful of multi-game winning streaks that contributed to making this year one for the history books.
MSD qualified for districts and wound up making it all the way to a best-of-three series with rival North Broward Preparatory School from Coconut Creek, Florida.
Although MSD lost the series, they still qualified for the state tournament by being top two in the Broward County district.
In Estero, Florida this past weekend, the Eagles hockey team faced off against teams from all over the Sunshine State, with the hopes of winning the tournament and qualifying for nationals in Texas.
Kicking off the weekend on Feb. 20, the Statewide Amateur Hockey of Florida Tournament started by pitting teams in a three-game round-robin stage, where MSD's team would play other teams in their grouping.
The first game that MSD played was against Jesuit High School out of Tampa, Florida.
Stoneman Douglas pledged to start this weekend off strong and did just that as they defeated Jesuit by a tally of 3-1.
"That might have been the most important win of the entire weekend. A fast start is crucial to building momentum in a tournament like this and achieving this in the first game was a huge deal for us," senior Ethan Bohm (13) said.
The next game was even more emphatic as MSD demolished Newsome High School of Lithia, Florida, with a score of 8-0.
As if a shutout at states was not important enough, this also gave MSD a prime opportunity to claim their spot in the semi-finals of the tournament.
MSD took this momentum into their next game against East Lake High School of Tarpon Springs, Florida.
A 9-2 win in this last game of the round-robin tournament gave the Eagles hockey team a spot in the state semifinals against none other than district champion North Broward Prep.
"Doing so well in round-robin was great. It put us right where we wanted… We then got our chance to go play in the final stretch of the state championship and face off against a local rival. That's all you can really ask for," junior Corey Bukowski (68) said.
At this point in the season, MSD suffered a 5-3 loss to North Broward Prep in December and a pair of 5-2 losses to that same school in the best of three district championship earlier this month. The group also managed a 1-1 tie against the foe earlier in the year.
In total, MSD was a large underdog in the bout against North Broward Prep, but throughout the four games played, MSD had not beaten their rivals once.
However, this did not stop the hockey team from fighting.
The semifinal match hung in the balance for an extended period of the game at a score of 1-1. A late score by forwarding junior John Brace (72) pushed MSD into a lead that they would not relinquish. Holding on to the 2-1 win, MSD earned the right to play in the state final in a rematch with East Lake, a school they had beaten just a few days prior.
"I was so hyped to score and so proud of what our team accomplished in this game. Overcoming prior struggles if the year to come through and beat a rival goliath in the semi-finals of states… That's why we play," Brace said.
The hockey team carried over this momentum and defeated East Lake in another blowout, by a score of 8-2.
On Sunday, Feb. 23, MSD became Florida's state champion for the second time in three years.
"[Winning] is what I've been dreaming of ever since I started playing hockey back in elementary school. Getting to rush out on the ice after we won the state championship was honestly crazy and gave me the chills," senior Sam Hendler (13) said. "I lived out my hockey dreams this past weekend… It's almost hard to fathom."
However, the road does not end here for the Eagles hockey team. They will be heading to Dallas, Texas for nationals on Thursday, Mar. 26. There, the Eagles will look to break a new boundary, defeating teams from other states to bring home a national title and trophy for the school.