Senior Anna Bayuk announced as the 2020 South Florida Youth Poet Laureate
Ivy Lam, Senior Feature Editor
April 9, 2020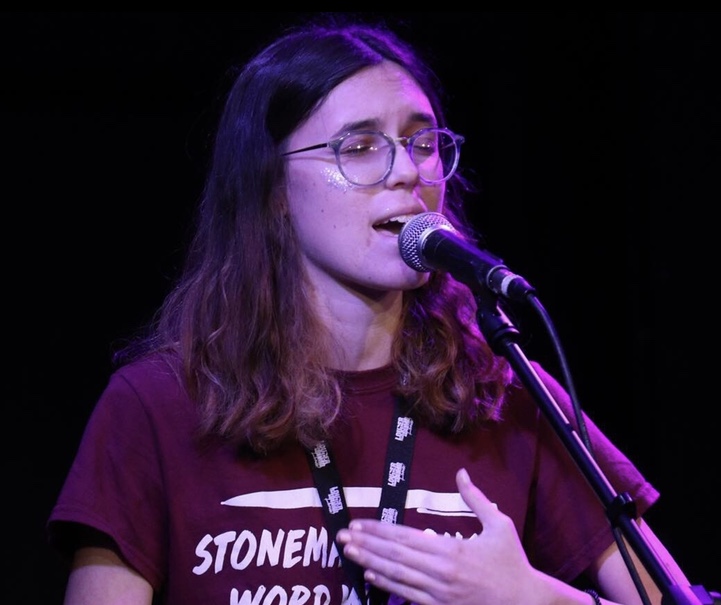 On Tuesday, March 10, Marjory Stoneman Douglas High School senior Anna Bayuk received first place in the 2020 South Florida Youth Poet Laureate through the Jason Taylor Foundation. After submitting her resume and portfolio, Bayuk competed against the works of other middle and high school poets in South Florida before being declared the winner.
As the 2020 South Florida Youth Poet Laureate winner, Bayuk gets a poetry book published, a book tour and an entry into a larger Poet Laureate competition against more participants in the region.
"I submitted a portfolio of ten poems, which revolve around my life, my brain and the things that are important to me," Bayuk said. "I particularly like to write using motifs of mythology, so there's a lot of that in there. The poems were all written over the course of the past year or so of my life, so they're things that are relevant to me pretty recently, in the scheme of things."
Bayuk heard about the writing competition from Bluapple Poetry, an organization that hosts a large number of poetry events in South Florida. She works closely with the company since she is very involved with the slam poetry scene.
"Anna's writing will always be a joy to me," sophomore Madelyn Wilson said. "To me, her writing is [a] voice that's not afraid to speak up, [it] is as detailed as her mind and is as pleasing as her presence."
According to Bayuk, the most amazing and exciting feature of her achievement is the publication of a collection of her personal poetry, as it has been a dream of hers for a long time. Although the original book release party has been postponed due to the outbreak of the coronavirus, Bayuk may pre-release her book online as an electronic book. She also hopes to start selling hard copies of her book, composed of original poetry and art, as soon as she can.
"I've known Anna for about nine years now, [she] has always been this very sweet and creative person for as long as I can remember," senior Amanda Marty said. "When you get her talking about one of her hobbies, you can see how excited she gets and she just brightens up the whole room. She has the biggest heart, is very dependable and is always willing to help people. I've seen her creativity grow over time and how she has grown through her writing and music."
Born and raised in Coral Springs, Florida, Bayuk has attended MSD for the past four years. She says writing has changed her life and given her a voice to express herself in a way she never used to be able to do before.
"Poetry, for me, is my own way of trying to make the world a little bit better, and myself in the process," Bayuk said. "It's an outlet for me to share the inside of my brain with the rest of the world. I think it's also a really powerful tool for activism, and for sharing messages that are hard to convey in other ways."
In school, Bayuk is a very involved and academic student. She is currently the president of the Spoken Word Poetry Club and Editor-in-Chief of the Artifex literary magazine. Additionally, Bayuk participates in the National Honor Society, the National English Honor Society, Quill and Scroll Club and Astronomy Club.
"Anna is diligent, detail oriented and serious about learning," language arts teacher Stacey Lippel said. "Her writing is thoughtful, prolific, and contains a level of depth that is saved for the truly gifted. She expresses herself in ways that most wish they could."
Last year, MSD's Spoken Word won first place in the state poetry competition, "Louder Than A Bomb Florida." During that time, Bayuk also served as the president of the club. Furthermore, she serves as a National Merit Finalist, a Miami Herald Silver Knight nominee and the third-place recipient in the Word Up! Poetry Slam conducted by the City of Sunrise last November.
"[Anna is] an amazing leader and trustworthy friend. She is one of my closest friends [and] her writing is beautiful to hear," senior Shaunak Maggon said. "She deserves every single one of [her awards and achievements]. The only reason I'm a better writer is because of her."
In the upcoming fall, Bayuk will be attending Emory University in Atlanta, Georgia, and plans on majoring in English and creative writing. She is looking forward to seeing more of the world and writing about all of her adventures along the way.