MSD organizations create social media bingo cards to keep student body entertained during quarantine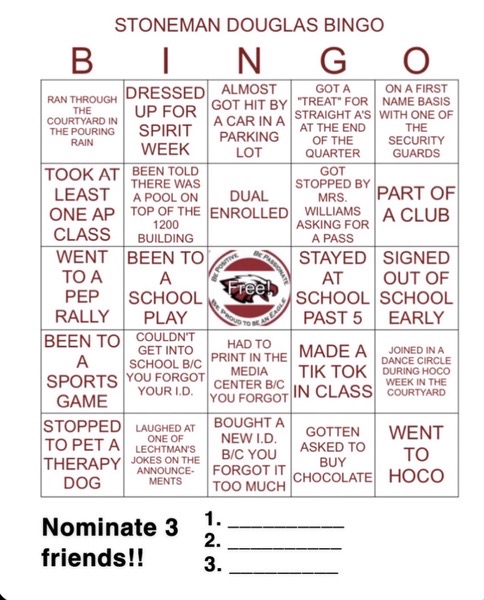 Brianna Fisher
April 22, 2020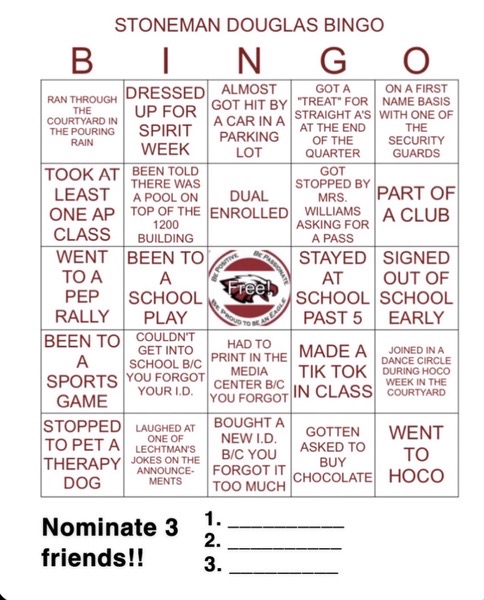 As students have continued to feel the boredom that quarantine entails, clubs have gotten creative in generating ways to entertain the rest of the student body. One way that students have passed the time is by creating and filling out bingo squares that pertain to Marjory Stoneman Douglas High School.
The Student Government Association was one of the first organizations to release a bingo card about MSD. The creation came as a result of leadership students seeing the trend on social media and wanting to participate.
"We wanted to create the bingo to allow everyone to be able to remember the happy moments from high school," SGA Liaison and senior Jordyn Hersch said. "Especially for seniors, it was a great way for everyone to reminisce on high school and the funny moments that we have had together."
The bingo card includes activities that constitute a 'day in the life of an MSD student,' such as going to a pep rally, getting asked to buy chocolate for a fundraiser, stopping to pet a therapy dog and going to a sports game. SGA posted the card to their Instagram first and then challenged students to repost on their own accounts with what they have done from the options given. From there, the rest of the student body was able to tag their friends and participate in the challenge.
"I thought it was a great idea for SGA to create a bingo card," senior Noa Golan said. "It was a lot of fun to fill out, and it makes it feel as if we are still at school and participating in activities with the student body."
Other classes, like MSD's Newspaper, have also created their own bingo cards to send out over Remind to their students. Newspaper's card, for example, includes typical activities such as attending a convention and becoming an editor.
In addition to clubs and classes creating cards for their members, students have started making bingo cards about their own classes to share with their friends. These cards include events that characterize each class and inside jokes between students.
A bingo card for AP Literature teacher Michelle Daon's class, for example, has boxes such as reading the narration in a play, complimenting her outfit and taking an assignment outside during a fire drill. Students are able to repost all of these cards on their social media and keep busy while staying inside.
"I think this time is difficult for us all, especially since work was supposed to be slowing down for seniors," senior Haley Stav said. "I created a card for our AP Literature class because I want to be able to lighten the mood in whatever way possible and make people laugh during this situation. I hope my card has brought my friends and classmates some humor as we stay inside."
The administration even joined in on the trend, creating bingo cards and sending them out to the teachers to complete for prizes. Every week, faculty have the opportunity to submit their cards, with spots like speaking to a parent during office hours and syncing Canvas grades to Pinnacle.
"Building relationships is very important to Mrs. Kefford and we wanted to find ways to keep the staff connected," Assistant Principal Sandra Davis said. "Of course there will be prizes- that is the best part!"
Students can find these bingo cards on their respective clubs' and class' social media pages and can repost them to their own accounts in order to participate.