Broward County mask policy change for high schools causes mixed feelings among the student body and teachers at MSD
"Be kind and respectful to teachers who are asking their students to wear a mask in their class. You don't know if the student you sit next to has a health condition or [if the] teacher is scared to bring COVID home to their families," teacher *Jane Doe, who suffers from heart conditions that would increase their risk if they were to contract COVID-19, said.
On Tuesday, Oct. 26 the School Board of Broward County altered the mask policy for all high schools from mandatory to "strongly encouraged" on campus. The change was put into effect Monday, Nov. 1 for all Broward County high schools, including Marjory Stoneman Douglas High School. The change in policy has caused the question to arise of how students and teachers feel and whether or not they will continue to wear their masks.
One of the main concerns that students and teachers have about the change in policy is that MSD has a significantly larger population than the school can truly hold (discovered by the Eagle Eye's latest investigative piece), especially with the 225 student increase from this school year compared to the 2019-2020 school year. With packed halls and crowded classrooms social distancing is almost impossible, meaning students and staff have relied on wearing masks properly and continually to prevent the spread of COVID-19. 
"The pandemic is still very dangerous even though we are no longer in quarantine. I think masks are very important to keeping us safe. With the school being extremely crowded, I think masks should still be mandated," freshman Alexandra Linenberg said.
Yet, it is important to note that when the mask mandate was in effect it did not truly result in students wearing masks properly. Before the change in mask policy, students throughout the hallways and at lunch were not wearing their mask correctly, or at all. Those who were not wearing their masks then, can be assumed are continuing that choice with the new mask policy. Since positivity rates are currently at 2.7%, this has made some feel that the change in mask policy won't have any overall impact on the school.
Teachers have expressed their own specific concerns towards the mask policy change. Before Nov. 1, many teachers used the mask mandate to reinforce students wearing their masks at least while in their classrooms. But with the change in policy, teachers are now only able to "strongly encourage" wearing them. 
Considering many teachers and their family members are at high risk if they contract the virus, lots of teachers have been upfront with their students about this; that way, their students can make an informed decision whether or not they will wear a mask in that class period. According to a survey of 465 MSD students, 47.7% state they would most likely wear a mask if their teacher is in class; 15.7% stating likely. Still, there is no way for teachers to enforce mask wearing in their classes, upsetting some.
"I am not a fan of the change in mask policy. These are the same rash and careless decisions that get made every time the Covid numbers go down. The population gets too comfortable, [too] soon which then prolongs the pandemic. It has almost become a vicious cycle," history teacher Michael Nastasi said. "While I can no longer enforce students to wear masks, I have asked the students to continue. I have individuals that are within my life who are older or are too young to get vaccinated. I would like to limit my risk to them as much as possible."
Other teachers and students who do not have to worry about contracting the virus, either from being vaccinated or not having any possible conflicting medical conditions, are excited about the policy change. They hope that mask optionality will bring some normality to a school year that is very much not normal.
"I am ok with the mask policy change because elementary and middle school students cannot all get vaccinated, but high schoolers who have been vaccinated don't need to [wear a mask]," English teacher Holly Van Tassel-Schuster said. "I am vaccinated with my booster, and my nine-year-old son is getting vaccinated this weekend. When I walk through the halls I keep my mask on but not in the classroom."
Also some feel that those with higher risks can continue to wear their masks, but those who are healthy and low risk 'don't need to.' However, this raises the question of whether or not masks are effective if only a percentage of the school population wears them. According to the CDC, masks work best when everyone wears one; when you wear a mask, you protect others as well as yourself.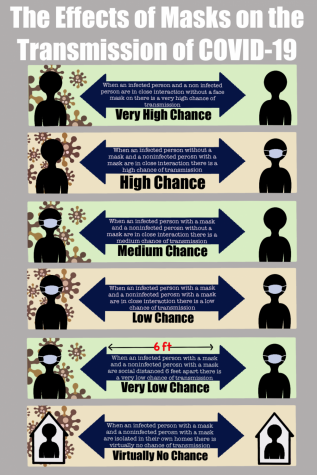 "Personally I support [the policy change] because I'm young and healthy so I'm not too afraid of coronavirus," junior Kevin Hamm said. "I feel that it should be up to individuals to decide, but I respect and understand the views of those who are worried about the voluntary mask policy.
Furthermore, some feel that with cases on a decline in the county it is safe for precautions to become less strict, but others feel the district is getting 'too excited' and may repeat the country's lowering of precautions that brought about the Delta variant a few months back. Currently, 1 in 5 people in Broward County reported to have COVID-19. 1 in 406 people in the county have died from COVID-19. 
"Normally, I would feel upset because Florida has a track record of loosening restrictions at the wrong time, but since cases are very low in Broward, I'm glad that we are able to start loosening up a little bit. However, I will still wear my mask and still be responsible," senior Raj Servaj said
Additionally, vaccination rates are also a factor. Currently, according to the survey, 68.8% of the school's student body is vaccinated and 9.2% is not; 7.1% do not wish to share. 
Those not vaccinated have shown that 41.1% will continue to wear their masks in school, 24.3% will no longer wear their masks and 34.7% are undecided. This could allow COVID-19 to spread faster and the positivity rates to raise. The CDC recommends if you are not fully vaccinated, you should wear a mask in indoor public places; this includes classrooms, the gym, the media center, cafeteria, etc. 
I disagree with [the mask policy change] because I'm vaccinated but I have a little sister who isn't and not everyone in school is vaccinated. I think it would be better if everyone continue[d] wearing mask[s] to protect those who are not vaccinated and themselves," freshman Jolyna-Eryka Quiambao.
Students and teachers have mixed feelings pertaining to the change in the mask policy. It is important to note that if the current county 2.7% positivity rate reaches 5%, the initial mask policy will be reinstated. 
*Names indicated were changed to protect the teacher's anonymity