[Multimedia] The CDC lifts mask mandate for all fully vaccinated individuals
On May 16, the CDC and President Joe Biden declared a lift on the mask mandate and social distancing requirement for individuals who have been fully vaccinated, including students and staff in schools.
According to 7 News Miami, "The guidance still calls for wearing masks in crowded indoor settings like buses, planes, hospitals, prisons and homeless shelters, but it will help clear the way for reopening workplaces, schools and other venues — even removing the need for social distancing for those who are fully vaccinated."
Biden believes that by providing a reward for it, more people may get vaccinated who wouldn't have wanted to prior. More than 120 million Americans have already been vaccinated, but many others have been hesitant to get the vaccine. Giving an incentive to get it could possibly make that number even larger.
This legislation advances upon Ron DeSantis' previously signed legislations that limit restrictions on people who choose not to wear masks. Desantis suspended local COVID-19 emergency orders on May 3, stating it is unnecessary "to be policing people at this point."
Following the news of the update to the COVID-19 mandates, many people felt hopeful for the future and returning back to their normal lives.
"We have all longed for this moment — when we can get back to some sense of normalcy," Rochelle Walensky, director of the CDC said during a White House briefing.
Students, especially, have shown optimism for the upcoming school year. The 2020-2021 school year has been mostly online, so students are eager to come back in person.
"I am super hopeful for next school year; I know so many high schoolers who have already been vaccinated," freshman Carly Rogalla said. "These steps being taken to reduce the spread of COVID-19 are bringing us closer to normalcy."
After both DeSantis and Biden made statements about the ease put on the mandates, many businesses in Florida have begun to resume activities with looser rules.
Walt Disney World, located in Orlando, Fl., has officially announced plans to allow vaccinated people to not wear masks and change the social distancing length from six feet to three feet.
WKMG News 6 Orlando
Although the news of a step towards normalcy brought many people joy, some others question the safety of this decision. DeSantis issued an executive order in April prohibiting businesses or government agencies from requiring patrons to provide any certified proof of vaccination. Without the only way to truly identify the difference, there is no way to know whether a person has been fully vaccinated or is an anti-masker. Some feel that this puts unnecessary pressure on workers to try to identify the difference between the two.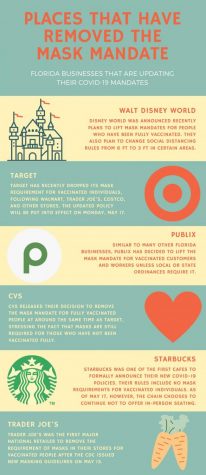 "Millions of Americans are doing the right thing and getting vaccinated, but essential workers are still forced to play mask police for shoppers who are unvaccinated and refuse to follow local COVID safety measures," Marc Perrone, president of the United Food and Commercial Workers International Union, said in an article with 7 news Miami. "Are they now supposed to become the vaccination police?"
Although it may not be perfect, a step toward the normalcy many took for granted before quarantine can help spark passion for some who don't care to get the vaccine.
As of May 18, vaccines are still being distributed to people 12 and older, and masks are required for anyone who has not yet been vaccinated.