MSD men's varsity lacrosse opener ends up as a disappointing loss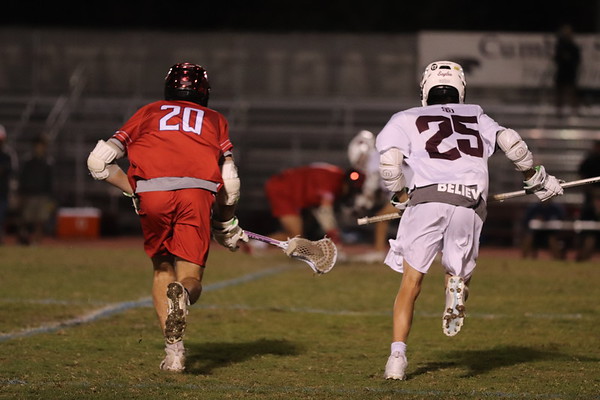 On Tuesday Feb. 15, the MSD men's varsity lacrosse team took on the King's Academy Lions in their first game of the 2021-2022 spring season.
The players had a long offseason of training and preparing to improve and advance faster than they did last year. In their 2020-2021 season, the Eagles lost at the state-level, losing 22-7 to Jupiter High School.
The first quarter the game started off slow but quickly accelerated as the Eagles came out first and took a 2-0 lead. The first goal was by midfielder Landon Reuter (30).
The second goal for the Eagles came a couple of minutes later, with Reuter scoring again. With a lot of momentum, the Lions struck back and scored two back-to-back goals to tie the game.
In the beginning of the second quarter, the Eagles started hot, scoring two goals within a two-minute span. These scores brought the lead up to 4-2, but the Lions would not quit, coming back strong and taking the lead with 4 minutes and 30 seconds left in the second quarter.
The Lions scored two goals in response and the score became 4-4. There was only about a minutue left in the first half and the Eagles scored, allowing them to start the second half with the lead.
"I tried helping the team by helping our new kids learn their roles and positions," defender Matthew Burris (21) said.
The second half began and the Lions scored right away, tieing the game 5-5. MSD maintained their momentum.
Lions quickly scored again, taking the lead with MSD beginning to fall apart. As the score was now 6-5, MSD had lost any sort of momentum.
The Lions were dominating and did not slow down their attack, as they scored once again. The Eagles had no answer.
Attacker Preston Gerna (7) had a great game as he scored two goals and had two assists. He scored with little left in the third quarter to tie it up.
At the start of the fourth quarter, Gerena scored again and the Eagles took the lead at 7-6. The Eagles scored again soon later and started picking up the slack, going up 8-6.
The Lions went off though the next five minutes, scoring three goals with several great plays. Following this, the Eagles scored one more time to tie the score up again, with the game going back and forth.
In the final minutes of the game, the Lions scored three more goals and won the game 12-9. They celebrated winning their first game of the season as the Eagles experienced their first loss.
The Eagles' next game will be at home against North Broward Preparatory on Thursday, Feb. 17 at 5 p.m.