MSD men's varsity volleyball suffers a tough loss against Charles W. Flanagan High School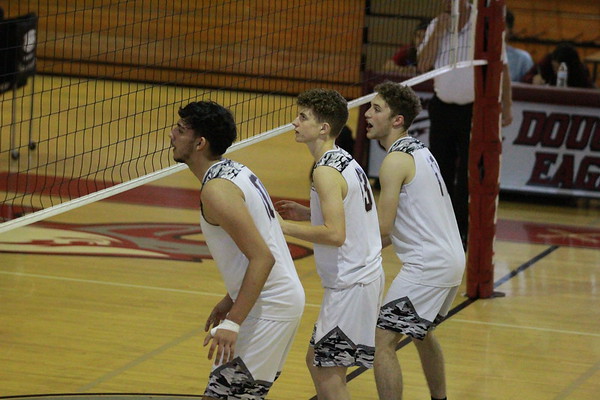 On Wednesday, March 9, the Marjory Stoneman Douglas High men's varsity volleyball team took on Charles W. Flanagan High School. Both teams were coming off a loss and looking to regain confidence in the next game of their long seasons.
After a difficult loss in the first game of the season against Cardinal Gibbons High School, who made it to the state championship quarterfinals last season, MSD was hungry for their first win in the new season.
The first set was a blowout win for the Flanagan Falcons. The Falcons got energy from the watchers and their teammates, capitalizing off of the energy of the crowd. Flanagan's offensive attack was seemingly no match for the Eagles. MSD was flustered and could not handle the spikes made by Flanagan's outside hitters. The Eagles lost this set 25-5, but there was still hope in the upcoming sets.
"We got off to a slow start and could not gain momentum against this good team, we just have to work harder and get better," librero Jayce Perkins (22) said.
The second set of the game had the same feel as the first one. MSD could not handle the strong serves and strikes from the Falcons, who made the game look easy. The Eagles lacked the energy needed to make a comeback in the match and didn't have the communication needed to win the game, ultimately losing the set 25-9.
"We lacked communication and that was what ultimately brought us to a loss," defensive specialist Peter Carl Jackson (15) said. "If we work on that [communication], we could be a good team."
The third set of the game was very different for the Eagles, as Flanagan seemed to have laid down and allowed the Eagles to play on the same level as them. MSD brought an energy to the third set that they did not have in the previous sets of the game. MSD's bench was celebrating after scoring, and the entire team became more engaged in the game. The Eagles had cut down on their errors and had Flanagan increased theirs.
Heading towards the end of the game, the Falcons increased their dominance and were able to pull off a 25-23 win in the third and final set of the game.
Flanagan pulled off a 3-0 victory and increased their record to 4-1, while the Eagles' record fell to 0-2.
In the second game of the season, an inexperienced Eagles team gave it their all against the very experienced and well-coached Falcons.
The Eagles are looking forward to their next game on Wednesday, Mar. 16, against South Broward High School. The players hope to produce a different result next week and win their remaining games.