Trump takes presidential title
Taylor Morrison
November 21, 2016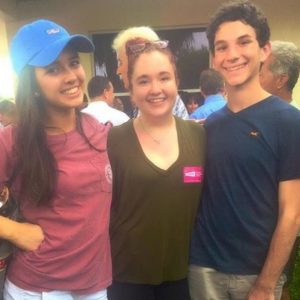 The insanity that was the 2016 presidential election has finally come to an end. Republic nominee Donald Trump has been elected the 45th president of the United States of America.
Trump defeated Democratic nominee Hillary Clinton's 218 electoral votes with a whopping 289 votes. Trump's success can be credited to his huge wins in swing states Florida, Michigan, Texas and Pennsylvania, though Clinton claimed states with large electoral colleges like New York, California and Illinois.
While Trump sweeped, in regards to electoral votes, the winner of the popular vote was actually Clinton with 47.7 percent. Voter statistics from CNN show a majority of Clinton's voters are female, whereas Trump's are mainly male. Also, statistics show that Clinton claimed the votes of mainly the younger generation, ages 18-29 and 30-44, while Trump claimed those of mainly 45-64 as well as ages 65 and older.
Both the Trump and Clinton camps felt it was crucial that they win Florida, if they wanted to make it to the White House. In the end, the projected winner of Florida's valuable 29 electoral votes was Trump, who received 49.1 percent of the people's votes. Clinton received 47.8 percent of the people's votes in Florida, even though she only won nine out of Florida's 67 counties. This came from her significant victories in the southeastern Florida counties: Miami-Dade County, Broward County, Palm Beach County, Hillsborough County and Orange County. Counties like Broward had statistics concluding that there were just below 260,000 Trump voters and just below 550,000 Clinton voters.
Trump's victory has gained a variety of reactions from students everywhere. Some students are in high spirits after Trump's victory.
"I feel amazing," sophomore Davin Vu said. "All aboard the Trump train."
However, while some students are satisfied with the results, others were mortified.
"I think it's horrible that there are still so many sexist, racist and just hateful people who could vote for Trump with no consideration for the millions of Americans who now feel unsafe because of him," sophomore Olivia Fellar said.
Some students are simply confused about how the Electoral College operates or why it is needed. Trump winning the presidency, even though Clinton won the popular vote has been a cause for controversy among Americans.
"The people voted for Clinton, and the system voted for Trump," sophomore Grace Thornburg said.
However regardless of controversy, whether positive or negative, regarding the results of the election, some MSD students lack a reaction at all.
"I hadn't paid attention to the election," senior Sarah Bruneel said. "I don't care about the outcome because the country is going downhill no matter what."
Trump's presidential success has become a hot topic among the younger generations and whether or not it is a positive or negative result. If anything, the results of the 2016 presidential election has sparked conversations among young people and students about a range of things relating to politics.