State of emergency declared as Richard Spencer takes UF stage
Nikhita Nookala
October 20, 2017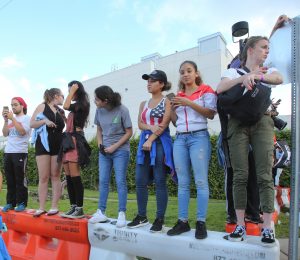 The University of Florida created national headlines this week after it announced that white nationalist Richard Spencer would be speaking on its campus in the Phillips Center for Performing Arts on Thursday, Oct. 19. The UF President Kent Fuchs has discouraged people from attending this event, trying to minimize chaos.
"Second, although I urge you to avoid the Spencer event, I ask that you not let Mr. Spencer's message of hate and racism go unchallenged. Speak up for your values and the values of our university. Make it clear that messages of hate on our campus are contrary to those values," said Fuchs in an Oct. 10 statement.
Gov. Rick Scott declared a state of emergency in Alachua County after the event was announced in order to use all forms of state and local law enforcement to ensure safety. Scott has also activated the Florida National Guard to standby in case additional security is needed.
The speech was arranged by the National Policy Institute, and Spencer's request to speak at the university was initially denied. According to the New York Times, a lawyer named Gary Edinger threatened to sue the university on the grounds of the First Amendment, since a public university is obligated to give a platform to anyone who wishes to speak. Edinger himself is allegedly not in agreement with Spencer's views, and has said that he had voted for Bernie Sanders in the 2016 election.
In preparation for the event, UF administration increased their visible security, spending upwards of $500,000 to keep the campus safe. However classes were not cancelled, and students were not excused from exams without specific permission from their professor or Dean.
"I think that administration should have officially cancelled classes, that way students, like myself, wouldn't have to worry about compromising our safety for academics. I understand that they want students to carry on with our day as we regularly would… but the fact is that he [Spencer] is coming, so we need to prioritize the safety of everyone, both the students and staff," UF freshman Lydia Poon said.
Spencer was heckled throughout the speech, with phrases like "Go home, Nazis, go home!" According to witnesses, this led to moments of frustration for Spencer, who addressed and replied to shouts from the audience.
Many students and faculty at UF, as well as other groups such as the Orlando Antifa and local chapters of Black Lives Matter, made their disagreement with the views of Spencer and his supporters known. Century Tower, a bell tower central to campus, played a rendition of the "Black National Anthem," a song called "Lift Every Voice and Sing."
"Normally, I would support those who exercise their first amendment right, since as Americans, this is something we are all promised. However, Richard Spencer's message of hate and exclusivity is an abuse of this right, to the point where we as students as well as the residents of Gainesville are being put in the line of danger," UF freshman Carina Diaz, an MSD Class of 2017 alum, said. "Spencer is a human being who does not understand the value of diversity and inclusivity, and we should not be giving him the spotlight he so desires."
According to ABC News, only two people were arrested on minor charges, including carrying a firearm on campus and resisting an officer without violence. A shot was fired, but did not hit anyone, and UF reports that only 5 people had minor injuries after the event.