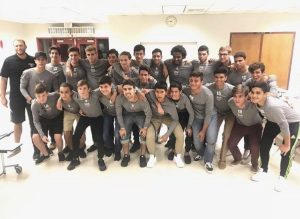 In their first game after the Thanksgiving holiday, the Marjory Stoneman Douglas High School men's varsity soccer team defeated Coral Glades High School in an away game with a score of 3-0 on Monday, Nov. 27.
Daniel Medeiros (10) was selected as "player of the game" with one goal and one assist. Mason Hall (2) and Bruno Sperandio (6) each scored one goal, widening the eagles' lead, while Goalkeeper Dillon Mcooty saved two attempted goals from the enemy team.
"I think we've prepared ourselves really well with preseason [games], we've been training really hard and [ended] our first three games with three wins," midfielder Bryan Herrera (21) said. "We're just going to keep on working hard and try to keep our streak going."
The team's next match-up is a home game against 2015-2016 state champions Boca Raton High School on Nov. 28 at 5 p.m..