Super Bowl Monday should be a holiday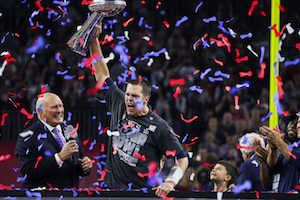 Tyler Avron
January 31, 2018
With all eyes on the field, the biggest spectacle in all of sports is on, and everyone is glued to the screen. In January 2017, Kraft Heinz promoted its policy of relieving employees of their duties for the day after the Super Bowl — a trend some companies have begun to follow across the United States.
While the Super Bowl is widely viewed as a useless reason to cancel work by efficiency preachers, others view it as a day used to recover and recharge after a long night. A 2016 survey by an employment and workplace investigator at Workforce Institute expects 16.5 million Americans to call in sick the day after the Super Bowl.
The U.S. has many holidays that businesses will respect and relieve their employees of work for the day. For example, Americans observe holidays that honor Martin Luther King Jr.'s impact on racial equality, religious holidays honoring the Jewish new year or the birth of Jesus. All are just some of the reasons Americans get to reflect by not going to work, so why should we not get a national holiday to watch some guys being dudes by playing some good ol' pigskin tossing around on the biggest stage in America.
According to CNN, it is estimated that 114 million people watched the 50th Super Bowl in 2016. About 98 percent of the Super Bowl viewers are watching from North America, and 75 percent of American households had the game on.
A Super Bowl party is an American tradition in which people get together, have fun with friends, see who can make the best buffalo chicken dip and watch one of the greatest sports spectacles on Earth. While the game of football is extremely intricate and detailed, a party is quite the opposite. Meant to be a good time, people gather to party and watch the game in between.
A recurring theme to watch out for while driving home Super Bowl night is drunk drivers. According to a study done by the California safety officials, there was a 77 percent increase in alcohol-related accidents on the roads on Super Bowl night, and the four Super Bowl Sundays between 2009 and 2013 contributed 294 fatal or serious crashes in California alone. Specifically in San Diego, alcohol-related accidents on the road rose 117 percent.
Safety is imperative, and especially being on the road when accidents are more likely to happen, one might consider staying at your party longer to avoid the rush. A common tip among party attendees is "maybe wait 15 minutes so the traffic calms down."
Of course, people go to parties with people they enjoy hanging out with. One may not have had a night out in a while, and the party is a great chance to enjoy a well deserved break. So, why not stay longer? Obviously staying out means less sleep, which leads to a steep decrease in productivity the next day.
If 75 percent of American households have the game on, and 50 percent of those Americans stay later at whatever Super Bowl party, that means there is a probable chance that a large fraction of employees are sleeping at their desks. So, why not give everyone a day to recover and get a proper night of rest before coming back to work?
After some more conversation, this might be the point when one would start thinking about leaving. Driving home or calling an uber seem to be the only two options. Since it is a popular night to go out among citizens, ride-sharing apps have surged prices. No one wants to pay more for the same service, so why not drive.
Depending on how far one might be, it can take a walk or a 20 minute drive home. So now, it is late; everyone is tired and dreading work the next day or depending on how long people stayed, the same day. So, why not cancel work? It would allow for safer exits from the function as well as decrease the accident rates due to a spread out "leaving time," and since America has not had a holiday in awhile.