Hundreds run in honor of MSD teacher Scott Beigel and 16 other heroes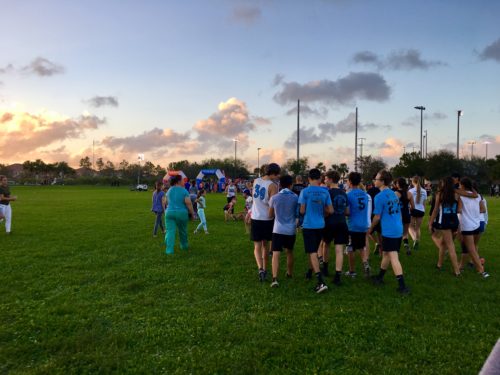 Richard Doan
February 23, 2018
On Tuesday, Feb. 21, hundreds of people from across the country congregated in Pine Trails Park to honor the life of cross-country coach and geography teacher, Scott Beigel, and the 16 other victims of the Marjory Stoneman Douglas High School shooting.
Over the past weekend, the cross-country team turned to social media to spread awareness of the run they called "Run 4 Biegel." Their widely distributed digital fliers and viral #runwithcoachbeigel hashtag resulted in support from across the nation, with those unable to attend the event hosting runs in their own areas.
Participants near and far ran around the three-quarter mile facility located just about a mile from MSD. Many along the way took a stop to remember the victims at the 17 flower and candle laden crosses situated towards the latter part of the course.
Among the participants were local law enforcement officers, many of whom were at the scene during the tragedy at MSD on Feb. 14. To demonstrate their appreciation for serving the community, the hundreds of students, faculty and parents present broke out into applause as these officers made their laps around the fields.  
"[Scott Beigel was] a man who showed up at the very beginning of the school year without a single clue about cross country and made a huge impact on our team," sophomore Annagrace Myers said. "He never taught us anything technical about running or training; he taught us how to run with our hearts."
Beigel was often remembered for his witty sarcastic nature and his inspiring leadership. MSD senior Nick Boyer details a memory about one of Beigel's first practices with his cross-country team in which he joked, "Why can't you run a little faster?"
When MSD came under attack on Feb. 14, Beigel opened his classroom door to let in students attempting to flee from the shooter. In his act of heroism, Beigel was shot dead as he tried to re-lock the door for the safety of the students inside.
Beigel's mother, Linda Beigel Schulman, delivered an emotional speech imploring for an end to gun violence.
"I promise that we are going to fix this, no matter what it takes," Schulman said. " No matter where you see me and no matter what I'm doing – follow me. We are going to make sure this happens as few times as we can. I would like to say never, but we all know this is going to happen until we fix this."
Following the speeches, participants ran a final memorial lap and released 17 white balloons to remember the 17 victims whose lives were taken far too soon.
Although all victims were honored, this one was especially for Coach Scott Beigel. To the coach that knew hardly anything about cross country, but knew how to inspirit his kids, to the coach who always managed to make students laugh, to the coach that sacrificed his life to save his students, this one is for him.