Banners hung at MSD raise spirits of those affected by tragedy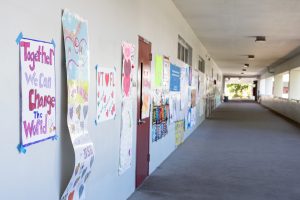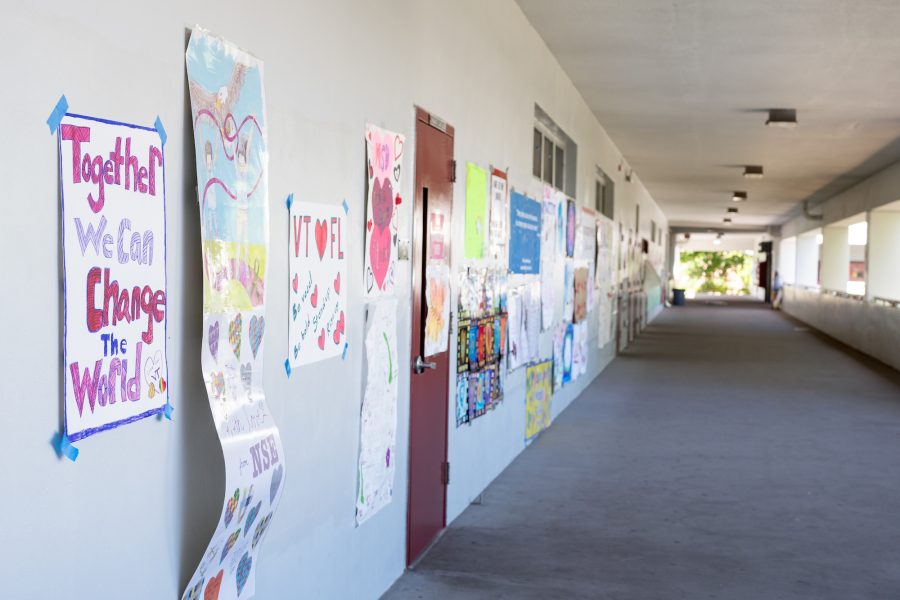 Following the school shooting on Feb. 14, South Florida communities have showered Marjory Stoneman Douglas High School and the rest of Parkland and Coral Springs with love and support through fundraisers, letters and banners. These banners can be seen throughout campus, as they were hung up along the fences and walls of MSD for students and faculty to see.
"[The banners] helped distract me from more negative thoughts and emotions and aided me in thinking more positively through this time of grievance," senior Julia Bishop said. "The banners influenced my first day back at school by showing the true outpouring of support throughout the country and even the world."
Schools such as Cypress Bay High School, Coral Glades High School and J.P. Taravella High School have sent banners to display support for the students who have endured tremendous loss and pain over the past two weeks. With hundreds of signatures and notes plastered on each sign, MSD students can physically see the unity of Broward County and the nation as a result of this tragedy.
"I think that banners are a good thing for schools to do because rather than them simply saying through words how they are here for us, they are able to give us a physical symbol of their support as well as a constant reminder of the fact that we have such a loving community surrounding us," Bishop said.
Lori Sessions, a faculty member of Taravella, was a key organizer of the banners and was in contact with a staff member at Sandy Hook Elementary when they advised Sessions and Principal Ty Thompson to request banners rather than letters from supporters around the world, which would have overwhelmed the office and not be seen by students. MSD has received banners from all over the 50 states of the U.S. and even other countries such as Ireland.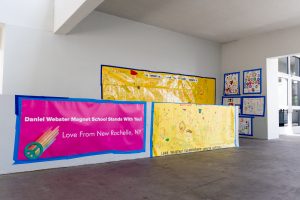 Sessions estimates that there are hundreds, perhaps even thousands of banners that have been sent to MSD, as they have been continually receiving banners since the incident.
Not only have schools sent in banners, but MSD alumni have also donated banners and contributed by coordinating fundraisers and events for victims' families, the establishing scholarship funds in honor of the victims and organizing of the March For Our Lives.
For example, the banner given by MSD color guard alumni hangs in the main courtyard just in front of the 700 building that says that the "Stoneman Douglas Colorguard Alumni stand with YOU #MSDStrong."
"I really liked the banners from the Stoneman Douglas Alumni, which surprised me since they reached out to us," junior Megan Ngo said.
The banners from alumni and fellow schools with encouraging messages are thoughtfully placed around the main courtyard while banners with the victims' names, the number 17, the date and any trace of politics are placed on the outskirts of the school in order to prevent any negative emotional triggers among the student body.
The once bare walls of MSD are now filled with signs of love and support from schools and organizations from around the world as a testament to the unity and strength of the community through these tough times.