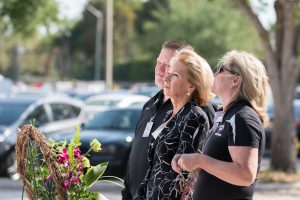 On Wed. March 7, Secretary of the Department of Education Betsy DeVos visited Marjory Stoneman Douglas High School to speak to survivors of the Feb. 14 shooting. She arrived at the school at 8:45 a.m. with a small SUV motorcade. She immediately went to the front office to meet with Principal Ty Thompson, Assistant Principal Denise Reed, guidance counselors and office staff.
She then moved to the media center, where she met with some of the district representatives, grief counselors and a few students. She then answered a couple questions from student journalists in the room.
After senior Kyra Parrow asked DeVos about her agenda to prevent further school shootings, the secretary answered that her agenda was "to ensure that the students of our country are able to pursue their learning in a safe environment. I am going to make sure that we bring forward solutions that communities can put in place that will be appropriate for their surroundings and will ensure that they can care for their students."
DeVos then walked with Thompson to the 1200 building, the site of the tragedy, and placed a wreath along the fence surrounding it. This was previously arranged with Thompson in order to honor the victims of the shooting.
DeVos then made her way to the auditorium. Instead of choosing to speak in front of all students, she slowly made her way around to different groups of students. She introduced herself to many of them, offering her condolences and comfort in this time of need and healing.
"I think she felt the need to actually come and see us all in person," Thompson said. "She wanted to come around and thank our staff for all they have done. It was a hands on thing: she wanted to be here and feel the atmosphere and understand what was really going on on campus."
After briefly speaking again with Thompson in his conference room, DeVos entered her car after an hour visit and left the campus. Thompson was extremely touched by DeVos's and other government officials' support throughout these past devastating few weeks.
"It's unfortunate that this all has to occur under such terrible circumstances and that we are in this situation," Thompson said. "But, the love and support from around the world has been unprecedented… They are all here to show love and support for our school, which is heartwarming for me."
Though many were honored to have the secretary at our school, some were unimpressed with her lack of answers.
"She wasn't informative or helpful at all. It's nice that she came to give us condolences, but we are so done with thoughts and prayers. We want action," Parrow said. "She didn't come to inform us or talk about how we are going to fix this issue; she just came to say that she came. That disappoints me."
Afterwards DeVos held a press conference at the Marriott, discussing her visit and experience at MSD.