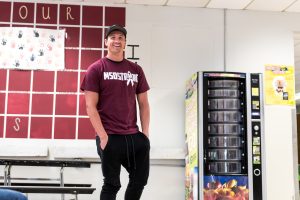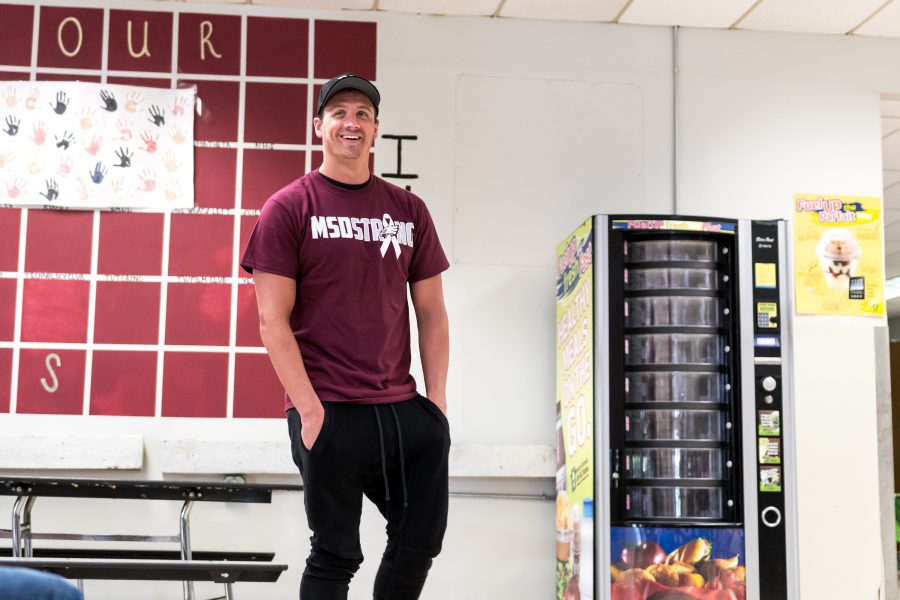 On Friday, March 9, Ryan Lochte, a 12-time Olympic medalist who currently holds a world record in the 200-meter individual medley, visited Marjory Stoneman Douglas High School's swim and waterpolo teams to encourage and inspire students following the tragic event that occured on Feb. 14.
The Olympic swimmer decided to come to honor senior Nicholas Dworet by visiting his teammates and family who attended the private event in the cafeteria at MSD. He answered questions asked by MSD swim team members from what his daily routine and best record is to how to keep himself motivated while out in the pool.
"I've always had some setbacks. What really motivated me and kept me going on a daily basis was surrounding myself with positive people. My family was one of my biggest supporters. Being around them and having the positive reinforcement really helped through those hard times," Lochte said.
As a competitive swimmer and past alumnus of the University of Florida who swam for the school, Lochte understood and sympathized with the students at MSD who also had a drive to improve themselves as athletes and students, though this time around the loss of a teammate is the major setback.
"What happened really touched me. Times like these is when everyone in this world has to come together. I just wanted to come out here to take the time out, and just show my support," Lochte said.
Before taking any questions from students, Lochte wanted to honor Nick by swimming in his place at the swim meet in the Plantation Aquatic Complex on Saturday, March 10 and received Nick's parents' permission in front of the swim team.
"What I heard that stuck out the most [about Nick] was the aspirations of wanting to go to the Olympics," Lochte said. "Anyone who has goals like that, wanting to become an Olympian and wanting to make the team, that just touches me. I've asked his parents if I could swim for him in his honor for this meet, sectionals and for the Olympics."
Lochte stressed the importance of setting goals and sticking with them by staying motivated in order to succeed in not just sports, but also life in general.
"I was failing motivation after the 2012 Olympics. I had the career highlight of my life; I was top of the world," Lochte said. "Then all of a sudden it started becoming a job to me and I started not liking it. I was making up excuses just to get out of practice. It took all the way until I had my child, and then I just found my love and passion again for the sport."
Lochte also mentioned how keeping practice lighthearted and fun was something he found helpful in keeping himself motivated on a daily basis. He would make silly jokes or sing along to his favorite music with his fellow swimmers to keep practice amusing and something he looked forward to.
Students and coaches in the room posed with Lochte for a collective group picture and individual pictures. The excitement in the room from meeting a world record-holder and Olympian was something MSD needed to uplift spirits and move forward in healing.