Why we need DACA to protect young immigrants
Nikhita Nookala
March 18, 2018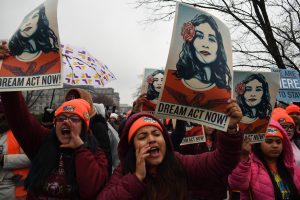 Undocumented immigration became a hotly contested issue during the 2016 presidential election, inciting passionate responses from both sides of the political spectrum. The Deferred Action for Childhood Arrivals Act was never meant to be permanent. Former President Barack Obama continuously asked Congress throughout his term to create legislation that would reform immigration policy for these immigrants.
Without DACA or a similar program, the U.S. would be putting hundreds of thousands of young adults' lives in jeopardy, including dedicated students, workers contributing to the national economy and soldiers serving in the military.
Some argue that DACA is unfair and supports undocumented criminals and unemployed individuals who benefit from welfare programs, or that it simply expedites the citizenship process for these immigrants. However, DACA recipients, also known as "dreamers," are technically not "legal," and they are required to have a clean criminal record in addition to continuing their attendance at a school, job or military service in order to keep receiving benefits.
In addition, the majority of DACA applications that are received by US Citizenship and Immigration Services are renewals rather than new applications. In fact, since fiscal year 2014, 74 percent of DACA applications have been renewals, indicating that few new applicants are taking advantage of the system.
Unfortunately, Dreamers have been caught between the walls of the two-party system and are being used as pawns by both sides to advance their respective agendas. Senate Democrats, unwilling to compromise on this issue, have held the government budget bill hostage until Senate Republicans and Senate Majority Leader Mitch Mcconnell agree on some kind of resolution on immigration and DACA.
This inflexibility on both sides of the aisle has already resulted in a government shutdown and a loss of peace of mind for DACA recipients and their families. Though both parties may have a similar goal in mind, which is to find a permanent solution for the DACA issue, due to their inability to compromise, a deal has not been made, and immigrants continue to hang in limbo, unsure about their status or their future.
We need to ask ourselves, though: can we really call America the land of opportunity when half of the country is willing to snatch the rug from under the feet of thousands of hard-working people?
The government would not be in this situation if the U.S. had a more efficient immigration system. The process of obtaining a visa is excruciatingly difficult for most applicants. Undocumented immigrants are the most desperate; they are willing to drop everything they know — everything they have grown up with — just to give their children a new chance at life. Many people do not consider the poor quality of life that these people are escaping from. Additionally, DACA recipients are children of immigrants who barely remember the country in which they were born.
The desire for immigrants to assimilate is often the issue that causes people to oppose immigration. To a typical American, when they see a community of immigrants who barely speak English and do not associate themselves with American businesses and stay within their own community of immigrants, it appears to be a gesture of unpatriotism. This is the image that drives chants of "build that wall!" and encourages this attitude of nationalism and xenophobia.
What people need to realize is that these people are trying their best. When our immigration laws deny them education and a way to escape these small communities of homogeneity, there is no way for them to fully immerse themselves in the complex culture that has come to define America.
Immigration is a divisive, complex and layered issue and is very personal to many Americans who have gone through the process to become citizens. But, before we denounce immigrants for seeking opportunity, we must consider the conditions that caused them to leave everything they love in order to come to a place where they may be thrown out at any time. We must take into consideration not only the life they have escaped to pursue the "American dream," but also the ideals this nation was founded upon as the "melting pot" of the world.