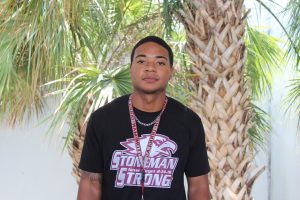 New track and field coach Gabriel Stewart lives by the phrase, "intentionally using sports to significantly impact and transform lives." In the face of track season cancellation and pressure from players on the basketball and football teams, new track and field coach Gabriel Stewart decided to take on the head coaching job for the team.
Last year the track coaches were volunteer parents who took their own time to coach. The team had unorganized practices and were essentially run by the players themselves. Without an official coach, the 2018 track season was in danger of being cancelled.
Realizing how much sports had impacted his life, Stewart could not go along seeing around 80 athletes have the sport they love taken away from them due to a coaching void.
"My mentor back in Maryland… saved my life through sports. I know what sports can do for kids because I experienced it firsthand, and it's wonderful," Stewart said.
Stewart has no shortage of experience in leadership and mentor roles. For the past three years, Stewart has been an assistant coach on both the basketball and football teams at Marjory Stoneman Douglas High School. Coaching alongside coach Orlando McCorvey for men's basketball and coach Wills May for football provided a landscape to develop game management skills and team development abilities.
"I do take stuff I learned from basketball and football, and now I get to establish my own standard, mentality and way of doing things," Stewart said.
Stewart brings a winning record to the table, having finished seasons above a 500 winning percentage in both basketball and football. In previous years, the track team has become very familiar with its own share of success.
"I give credit to those athletes who last year, they just had parents who didn't know a lot about track — they had unorganized practices. Now we have someone who knows about it, and I want to add to the success," Stewart said.
Stewart believes that in order for a team to succeed, there must be development of professional characteristics. The first characteristic of a winning team is accountability. Stewart demands respect from his athletes no matter what.
"Respect is my number one rule; when I blow that whistle, I expect full attention and if not, they will pay the consequences," Stewart said.
As a teacher, Stewart is an advocate of education as a world geography teacher who has been teaching for one year.
"I want them to take that same diligent mentality they have on the field and bring that to the classroom, make sure they're doing the best to stay on top of everything," Stewart said.
Following in the footsteps of previous coaches May and McCorvey, Stewart plans to continue a regiment of seniors teaching and assisting freshmen to develop better leadership skills and improve the team as a whole.
"Three seniors are helping the team with hurdles," Stewart said. "I want to develop the seniors' leadership abilities; I want them to naturally lead in a positive way."
It is difficult for a single track and field coach to monitor every part of practice, so having reliable senior captains as assistants really goes far to improve the quality of practice and development, according to Stewart.
With any competitive sport, every team experiences highs and lows. Stewart believes every teams' response to defeat determines how long the positive rebound can last.
"I try to relate to them, to motivate them, let them know everything is a learning experience, and they can get better from it," Stewart said.
The first track meet was held on Feb. 7. For Stewart, it was his first MSD sporting event as head coach and will hopefully mark the beginning of a long-tenured and successful run.