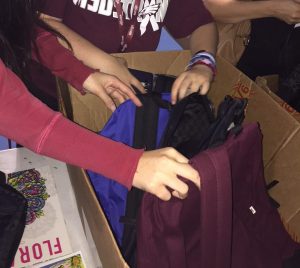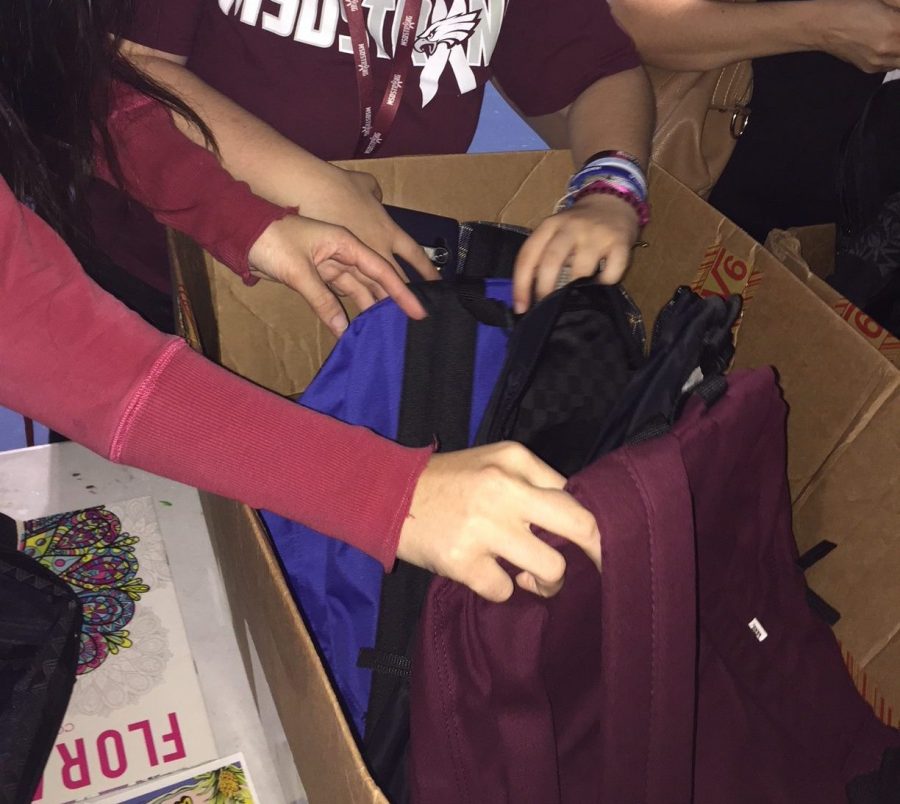 On April 5, Vans shoe manufacturing company joined the group of worldwide supporters of Marjory Stoneman Douglas High School. From 6 p.m. to 9 p.m., representatives gave out free backpacks to students of MSD at the skating park at the Tamarac Sports Complex.
The location was chosen in conjunction with Vans' skateboarding theme and due to the overwhelming security at the school, which makes it difficult for them to distribute during school hours.
"We just decided that we should organize a 'skate night,' and have students come here just to get everybody out and doing something. Our whole idea… was just to give all of you an opportunity to get out instead of isolating yourselves and to do something and to talk to your friends," volunteer Toni Frallicciardi said.
Students simply had to write down their name, email and student number and could take home one free backpack, which are typically worth around $30 to $50 each. Boxes of colorful bags of all types sat along the side of the skating park where MSD students could come to pick out one to keep as their own. Notebooks and markers were also given in addition to the backpacks.
"It was kind of hard figuring out how to get to the skate park, but the people who organized it were so nice and patient with all the distributing of backpacks. It was also really sweet of them to give out other free things like stickers and notebooks," junior Shai Harnov said.
While many students are appreciative of these donations, they wonder if there is some correlation between this and the recently implemented requirement of transparent backpacks. However, Frallicciardi explains that Vans began planning this event only a day after the tragedy on Feb. 14, before the policy that forbade their opaque products was enacted.
"They sent them the day after the shooting. We've had them ever since then trying to distribute them, and they know now that you have to have clear backpacks at school and everything, but they just wanted to bless the students and give them a gift from Vans to say 'hey, we're here, and we're here to support you," Frallicciardi said.
According to Frallicciardi, officials at Vans noticed that many MSD students left their backpacks in the school as they were fleeing campus. As a gesture of their support, they immediately began ordering hundreds of brand new backpacks to be given out to the students.
When they found out about the new security protocols, they decided to still give away the products because students can still use them outside of school or when they go off to college. The bags were in no way intended to support any protests against the clear backpacks, which have been apparent at MSD throughout the past week. Vans has not made their opinion on the subject known.
"[The clear backpack requirement] is difficult, and it's something different, but really with these, we still wanted to give them to you regardless because we just wanted you to be able to use them when you go to the beach, or to go on trips, or to do whatever you'd like with them," Frallicciardi said.
The offer was met with great content and appreciation with many students rushing to Tamarac to pick out the best bags.
"With college coming up soon for many of my friends and myself, this backpack has me excited about the idea of starting a new chapter in my life. It's been difficult to focus on the future with everything that's happened in the present, but Vans has really given me a more positive outlook for what is in store for me," senior Ariana Ortega said.
Vans will continue distribution of more backpacks to MSD students some time next month to ensure that every student has the opportunity to take advantage of this offer.