Congressman Ted Deutch hosts town hall about gun violence prevention
Suzanna Barna
April 8, 2018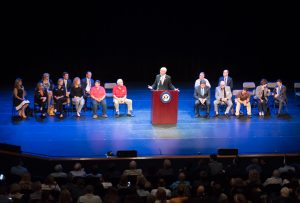 On April 3 at the Coral Springs Center for the Arts, Congressman Ted Deutch hosted a town hall from 6:30 p.m. to 8 p.m. alongside local and state politicians and officials.
Some state and local politicians who attended include Florida Reps. Kristin Jacobs and Jared Moskowitz; Parkland Commissioners Stacy Kagan and Grace Solomon and Coral Springs Commissioners Joy Carter and Dan Daley.
Deutch began the event by recalling the 17 victims of the Marjory Stoneman Douglas High School shooting on Feb.14. He read out their names and could barely get through the list without crying. Deutch took a moment of silence to honor the victims who passed.
Deutch also acknowledged all of the injured victims by giving his support and well wishes to them.
In his introduction before taking questions from the public, Deutch mentioned the addition of school psychologists and creation of more gun safety legislation. He also stated his support for a ban on high capacity magazines and that "weapons of war" did not belong in the communities.
"Why would you want to make it easy for bad people to get such powerful guns?" Deutch said.
The congressman confirmed he is working with Florida Sen. Marco Rubio to ensure that bipartisan politics lie at the heart of this issue and that real, negotiated legislation arises from the tragedy that happened on MSD grounds and the outcry since.
Deutch concluded his opening statement by giving the students praise for their immense efforts through the Never Again movement and specifically credited the students who marched and organized the march.
"My colleagues would've never organized town halls had the students not marched and called the issue to everyone's attention," Deutch said.
The questions began with ones posed by students regarding emotional and mental support provided by the school and community, as PTSD and depression are often prevalent in survivors of violence and traumatic experiences. The concerns brought up were specifically that teachers seem to be moving on, and the therapy dog and grief counselor numbers are dwindling.
Deutch offered his support in any way he could, but for the most part advised students to attend the school board meeting on April 10 to bring up their concerns about various issues such as counselors, law enforcement on campus and clear backpacks.  
Ted Deutch often answered questions by directing the issue towards the Broward County School Board, who would have a more accurate and detailed response than himself. No school board members were in attendance due to a scheduled school board meeting that occurred the same evening.
"The school board members wanted to be here tonight, but they had another previously scheduled meeting," Deutch said.
Some questioned whether this occurred purposely and why the meeting could not have been rescheduled. Their absence left a void in the conversation as questions were posed that Deutch could not properly respond to.
Fred Guttenberg, the father of victim Jamie Guttenberg, spoke at the town hall and thanked the parents and especially the kids for being "fierce."
"You know what you want, and say what you want, and don't care what anyone says back. Shame on those not doing anything. We will get common sense gun laws passed," Guttenberg said.
Meadow Pollack's father, Andrew Pollack, along with Max Schachter, father of Alex Schachter, were thanked by Deutch for their strength through this difficult time. They have met with many politicians to discuss school safety and started a school safety group. The dedicated fathers have already had some success with new safety laws being passed locally and around the country.
Freshman Kimberly Miller brought up the topic of testing and challenged its appropriateness in the following months where recovery and healing will continue mend the community. She questioned the sensitivity of the standardized test organizers who neglected to adjust or cancel tests for the students.  
"[Test makers are] telling us we don't have to be over this yet, but [are] expecting us to take a test," Miller said.
Freshman Eden Hebron shared her memories of witnessing three classmates being murdered. She asked Deutch how schools could be safer with more security measures opposed to just clear backpacks.
Freshman Daniel Tabares posed the idea of real policy change in the government along with nationwide solutions instead of just local quick fixes. He was also curious about how to best move forward to accomplish this desired change as a community. Deutch proceeded to suggest change by voting, but also directly contacting representatives whether it be a phone call or letter by mail or e-mail.
Deutch praised the students' presence on social media and its effectiveness thus far in order to spread the gun reform message. The social media platforms, most prominently Twitter, make politicians aware of the concerns of their constituents and allows direct communication between the two entities; another method of influencing change in one's community that Deutch proposed in response to Tabares.

MSD U.S. history teacher Gregory Pittman made the politicians aware of the lack of security in the early mornings at school, despite the law enforcement's duty to start their security process by 6 a.m. Freshman Christine Yared thanked teachers for all of the support they have provided since the day of the massacre. She acknowledged that teachers' trauma and experiences parallel the students' and posed a question regarding the treatment of teachers.
"The students have access to therapists all day long but teachers have to keep teaching, or at least stay in their classrooms the entire day," Yared said. 
Steve Wind, father of MSD junior and Never Again movement leader Alex Wind, asked about the ban on assault weapons and how to define assault weapons properly to overcome the challenge that Marco Rubio introduced at the CNN Town Hall in February.  
"We know that it was successful; we know that weapons of war are opposed by the majority of people in this country, and that Congress simply needs the courage to stand up to do what is right," Deutch said.
MSD senior Angelina Lazi received a standing ovation from the audience as she addressed the issue of making pro-gun citizens understand the need for gun reform and that almost everyone supports the Second Amendment. She also made a point that the National Rifle Association is just an interest group with no written power over the government.
"What are we going to do to start to put something into place that will keep the hands of civilians off of weapons of war; to make people understand that we aren't trying to take away the Second Amendment and that the NRA is simply just an interest group, not part of government," Lazi said.  
Her statement directly addressed a protester's sign in the balcony region which read "Democrats Wanna Ban Licensed Guns LEGALLY…. So Criminals Can Kill With Guns They Got ILLEGALLY."One of the last speakers was Debbie Hixon, wife of victim Chris Hixon who worked as a security guard and coach at MSD before his life ended while protecting students.
While she acknowledged the work done post-massacre in state and federal governments, she urged that it was still not enough. She thanked the politicians for the start, but stressed the need for compromise so reform and better safety measures could be implemented in the country.
"We have to ban assault weapons. This is not about the Second Amendment. It's about what's right and what's wrong," Hixon said.
With lines still remaining to speak at 8:30 p.m., the town hall came to a close since the program ran beyond the center's hours.
The audience felt encouraged by what they heard that night, but saw it as more of the same they had heard in the past.
"I thought it was a good opportunity for us to let the officials in charge hear our opinions once again and take our concerns into account," sophomore Katrina White said.
Deutch offered his ear after the town hall to those who had not yet asked their questions. The evening was informative and many questions from inquisitive members of the community were asked and answered.