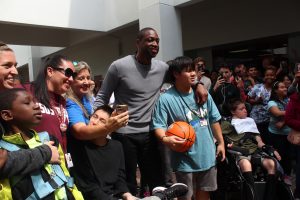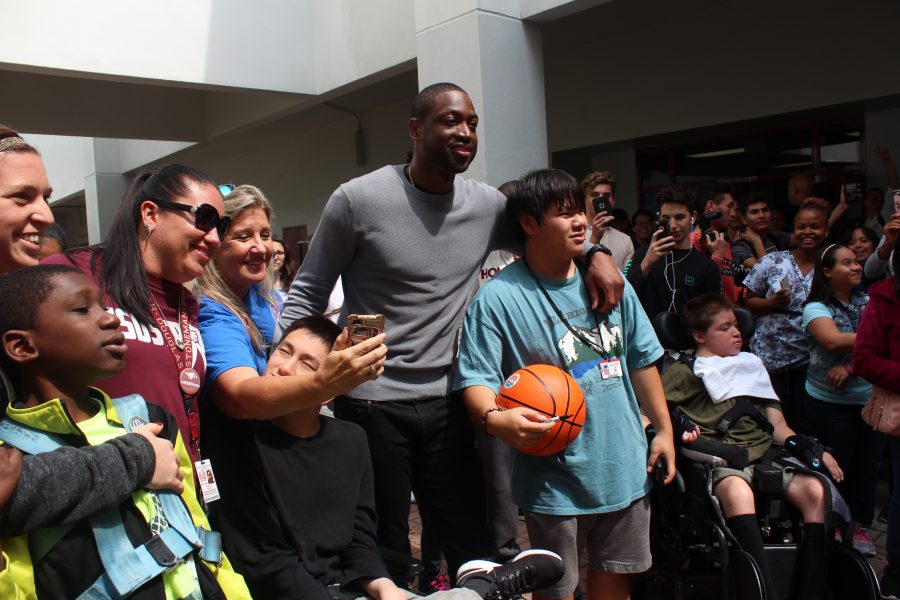 After the shooting at Marjory Stoneman Douglas High School on Wednesday, Feb. 14, multiple celebrities have reached out to the victims' families and student survivors.
When NBA player Dwyane Wade discovered that Joaquin Oliver was an avid fan of his, the basketball star met with Joaquin's parents and dedicated the season to his memory.
"[Joaquin's] story, it really connected with me," Wade said. "You never really know the impact that you have on someone and the influence that you have. When I heard that his mother and his father and his family decided to bury him in my jersey, to me, that was out of this world. How did I become a person, that in a tough moment for a family, they found joy in what he wanted, in burying him in my jersey?"
In addition, Wade wrote "Joaquin Oliver" on his shoes that he will wear at every game for the rest of the season.
To the students' surprise, Wade spontaneously visited MSD on March 7. He spoke in the cafeteria during both lunches and also met with students in Peer Counseling and Leadership.
"It was amazing to be able to meet Wade, especially under the circumstances at school right now. I've loved watching him play ever since I was a kid and have always wished to meet him. At first, I was just excited to meet him and be able to say Wade came to my school, but what he spoke about and told us students was so inspiring as well," junior Zion Belmond said.
Not only did Wade make an appearance, but also numerous celebrities such as Zendaya, Demi Lovato, Justin Bieber, Ariana Grande, Khloe Kardashian and Miley Cyrus reached out through Twitter.
Many were sending their thoughts, prayers, support and praise for student activists.
On March 24 in Washington D.C., celebrities including Miley Cyrus, Ariana Grande, George Clooney, Noah Cyrus, Kim Kardashian, Kanye West, Demi Lovato and Vic Mensa made an appearance to use their fame to bring awareness for the March for Our Lives event and the Never Again movement.
"Being in Washington for the March for our Lives was the most incredible experience I have ever encountered. It was amazing to see celebrities who I have looked up to my entire life perform right in front of my own eyes for my school, fighting with me. I think by them being there made a huge impact on people making them realize how hard us students are fighting for change," junior Karter Cooper said.
Additionally, "Hamilton" writer and star Lin-Miranda along with "Dear Evan Hansen" star Ben Platt released a mash-up song from their respective musicals called "Found/Tonight" in honor of the MSD students and their charge for gun reform. The song was released on iTunes and all of the proceeds earned were donated to March For Our Lives.
Youtuber Jake Paul created a documentary where he talked to survivors of the MSD shooting, Florida senator Marco Rubio, local parents and law enforcement about ways future school shootings can be prevented. Paul presents possible preventative measures, including installing bulletproof glass in schools and requiring social media companies like Instagram to better flag gun-related content.
"When Jake and his girlfriend Erica Costell came to Parkland they wanted to meet with survivors of the massacre at Stoneman Douglas and one day I got a call asking if they could speak with me so, I said yes. When Jake arrived at my house, his goal was to make me smile and make me feel like he was there for me. We played video games just like it was a normal day. It was nice for me because Jake was very easy to talk to unlike some professionals," junior Jonathan Blank said.
The celebrity outreach to students shows them that they do not only have the support of each other, but also of many celebrities who are fighting with them for a change.