Lynn University hosts student panel about the horrors of a school shooting and gun reform
Richard Doan
April 17, 2018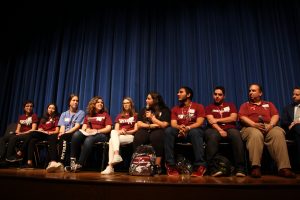 Following the tragedy that struck Marjory Stoneman Douglas High School this past Valentine's day, students and schools from across the nation have rallied in support of MSD. More importantly, the inspiring political activism of the survivors has turned this local tragedy into a worldwide phenomenon. The result has been organized cries for change and demands for gun reform.
Lynn University is one such school that has taken a stand against gun violence. On March 14, the Lynn community united at the school for 17 minutes in remembrance of the 17 victims at MSD and all those lost in mass shootings over the last two decades. They stood together for further awareness of the gun violence epidemic that plagues American society.
"It was super powerful to watch the community react to hearing all of the shootings," walkout organizer Baylee Howe said. "We got so much positive feedback from the community saying how impacted they were by so many different shootings."
In addition, the Lynn University class of 2022 banded together in honor of Meadow Pollock, who planned to go to the university this coming fall. The students created a YouTube video entitled "One of Us," which demanded action toward the issue of gun violence. Their voices revealed the true weight of her loss and discussed how she will never have the chance to fulfill her aspirations or meet her future friends.
"Even though we didn't know her personally, she was one of us and because of the actions of a troubled teenager, we'll never get the opportunity to meet her . . . Her dreams, her goals, her life are gone forever," the class of 2022 said in a YouTube video dedicated to Meadow.
However, the community's efforts to speak out against gun violence did not end with this peaceful demonstration. Lynn University Professor of American Studies Dr. Robert Watson invited Lynn University junior Lourdes Rubero, junior David Czarlinsky, senior Baylee Howe as well as MSD freshman Avril Englehart, freshman Anna Crean, sophomore Erika Rosenzweig, sophomore Naomi Rozenberg, sophomore Rachel Padnis, senior Seth Albert, senior Harrison Albert and senior Carli Albert. Together, they spoke at a panel hosted by the university. The students were joined by Rep. Ted Deutch and Florida state legislator Jared Moskowitz, who spoke at length their propositions for reform.
At the Amarnick-Goldstein Concert Hall, the MSD students were given the opportunity to share their stories and experiences as survivors of one of the deadliest high school shootings in U.S. history.
"I feel that by sharing my story, it makes an impact on everyone that hears it. The more people I tell, the more action will take place," Albert said.
One central issue that many of the students have discussed is the need to feel safe when going to school. The students say school should be a lively place of learning and education, but in reality they fear going to school at all.
Crean shared her emotional reflection on the events of the Valentine's Day massacre, detailing the grave horrors she witnessed.
"We heard gunshots and screams and it just seemed to go along for hours. Then the shooter came to our door and he started shooting through our door because he saw our teacher. He shot four five times into our classroom and I was just thinking in my head, I am going to die," said Crean. "This is it. I covered myself with my backpack and I held my friends hand and we just sat there shaking."
Concluding the panel, Deutch delivered his thoughts on the importance of compromise and bipartisanship in order to put an end to the nation's gun violence epidemic.
"We can talk about the problems of partisanship, and we can talk about a system that is too dependent on the influence of money instead of the agenda and ignore the problem we should focus on, but school safety and making sure we have where our kids can feel safe in school is not partisan," Deutch said.
"Making sure people have access to mental health care is not partisan. Ensuring that we do everything we can to keep guns out of the hands of dangerous people is not partisan."
In an impassioned effort to promote gun violence awareness, MSD students have delivered a profound global impact. They have proved to be relentless, bold and eloquent voices for change. The MSD students at Lynn University were no different. They say they will be the generation that ends gun violence, and that is exactly what these students aim to do.