"Shine" music video sheds light on aftermath of shooting
Samantha Goldblum
April 18, 2018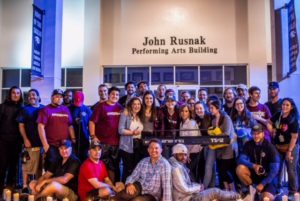 After the tragic shooting at Marjory Stoneman Douglas High School on Feb. 14, 2018, sophomore Andrea Pena and junior Sawyer Garrity felt that they needed to do something special to occupy their time and, more importantly, honor the 17 lives lost. Their original song, titled "Shine," quickly grew into one of the most well-known tributes for those affected by the shooting on Valentine's Day and was soon played at venues such as the CNN Town Hall at the BB&T Center, March for Our Lives in Washington D.C., and events held for victims' families.
Soon, requests were made for a "Shine" music video. Garrity confirms that the demand for a music video has been met, and that they filmed the music video at school on March 21st , inviting all MSD students to come and be part of the project. The release date of the music video has not been announced yet, but can come any day.
The "Shine" video was recorded with camera and lighting crews that were predominantly made up of MSD alumni who were excited to volunteer their time and equipment for this cause. All current MSD students who participated in the recording were told to wear muted colors of gray and burgundy shades to display school colors. The music video incorporated several clips from the March for Our Lives in Washington D.C and features the school's beloved service dogs that have become a fixture on campus.
Over 100 MSD students appear in the music video, making the recording process of the video take two days when students stayed at school from 2:45 p.m. to midnight.
"The production was fun, empowering, and an incredible bonding experience for all students involved in the production," Jared Block said.
"This video is for us; for us to look back at what we accomplished and to remember a greater cause that we were all a part of," Garrity said.
Students will be seen marching, lip syncing, flash dancing and having fun. Although the video was created in honor of the victims and is a testament to the resilience of the community, it was difficult recording some of the footage. One scene, where only Pena and Garrity are on stage together, took over 7 takes to perfect. Overall, the production of the music video bonded many of the drama kids together and the video clearly shows unity between all students.