Scott J. Beigel memorial fund raises money to send kids to camp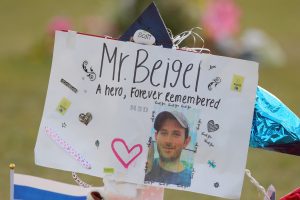 In honor and remembrance of geography teacher Scott Beigel, the family has created a foundation to honor him. Beigel attended Camp Starlight for the first time in Starlight, Pennsylvania, at the age of 7. The fun and exciting memories led Beigel to continue to attend Camp Starlight, eventually becoming a camp counselor due to his love for the camp.
Camp Starlight has been established for more than 70 years. The camp is located just two and a half hours northwest of New York City, and includes a total of 385 acres of a co-ed terrain. There is a private lake and a beautiful mountain range that surround the campgrounds and give the whole camp an outdoor and natural experience. Although the camp is co-ed, the girls and boys participate in separate activities during the day, and are brought together for meals and different evening events.
Camp Starlight includes numerous events during the summer: athletics, waterfront activities, performing arts, creative arts, adventurous activities, out-of-camp adventures and their very own version of the Olympics.
In the camp-style Olympics, boys and girls compete in their own competitions for five days. These events consist of sports, trivia, rope burn, apache relays, singing and more. The Olympics is a camp tradition to show teamwork, sportsmanship and camp spirit.
Beigel was the senior boys division leader. He was in charge of planning evening activities for the senior boys to do.
"He was the division leader to the oldest two divisions at camp, and he was close with every single one of them. He was practically their older brother and he was so much more than just a title," camper Bailee Paul said.
The foundation to honor Beigel provides scholarships to send children to camp who cannot afford it. One of Beigel's unique characteristics was his love for camp, and this foundation will give children the chance to fall in love with camp as well.
There is a Go Fund Me link to raise money to send the children to camp. The website has a set goal to raise $500,000. As of April 16, they have raised a total of $48,199.