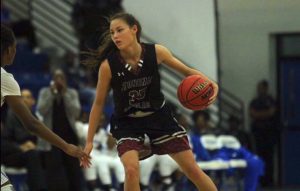 Dribbling her way down to the net, junior Abbey Hsu is known to stand out on the court. Hsu plays point guard and shooting guard for the Marjory Stoneman Douglas High School varsity basketball team.
"I started playing basketball when I was nine," Hsu said. "It acts as a stress reliever, and I have continued to play ever since I was little."
By starting basketball at such a young age, Hsu has been able to work with many different coaches. This has allowed her to learn different techniques and skills from multiple people.
"I would definitely say my biggest role model is my travel basketball team coach James Ford," Hsu said. "He really helps me and makes basketball fun."
On Jan. 6, 2018, Hsu was awarded the Broward Fab Five award, which is given to five high school basketball players, regardless of FHSAA classification. The award was also given to four other basketball players from four different schools, all ranging from freshmen to seniors. They included junior Deja Antoine from Cardinal Gibbons High School, junior Femi Funeus from American Heritage High School, senior Erin Gutierrez from Nova High School and sophomore Bella LaChance from St. Thomas Aquinas High School.  
"It felt really good to win the award," Hsu said. "I finally felt accomplished for all of my hard work."
All five of the winners were kept a secret until the results were announced. At the time of the award, Hsu had no clue that she had won, creating an atmosphere of excitement and surprise for her.
"I was shocked that I won, especially since I didn't win last year," Hsu said.
Winning this award was a big deal to Hsu. Despite the minor awards that she has won here and there after games, this was her first major award for basketball.
"I have won awards before like Most Valuable Player of tournaments or games," Hsu said. "However, this was my first large scale achievement that I have won."
Her skills have made many colleges interested in Hsu. She has attracted many recruiters and even just interested spectators to her games.
"I am planning to continue to play basketball throughout college," Hsu said. "I am not sure where I want to go yet, though."
Hsu describes basketball not as work, but rather as an unrelenting passion in which she has developed a strong social base in addition to a fun time.
"I actually made most of my friends through basketball," Hsu said. "This is because we are together all the time."
Basketball has always been a major part of Hsu's life. With all of her hard work and talent paying off, Hsu has become an important name in local high school basketball with a promising future in the sport.