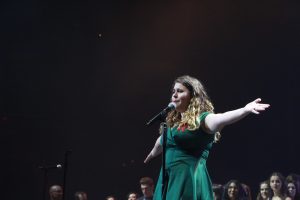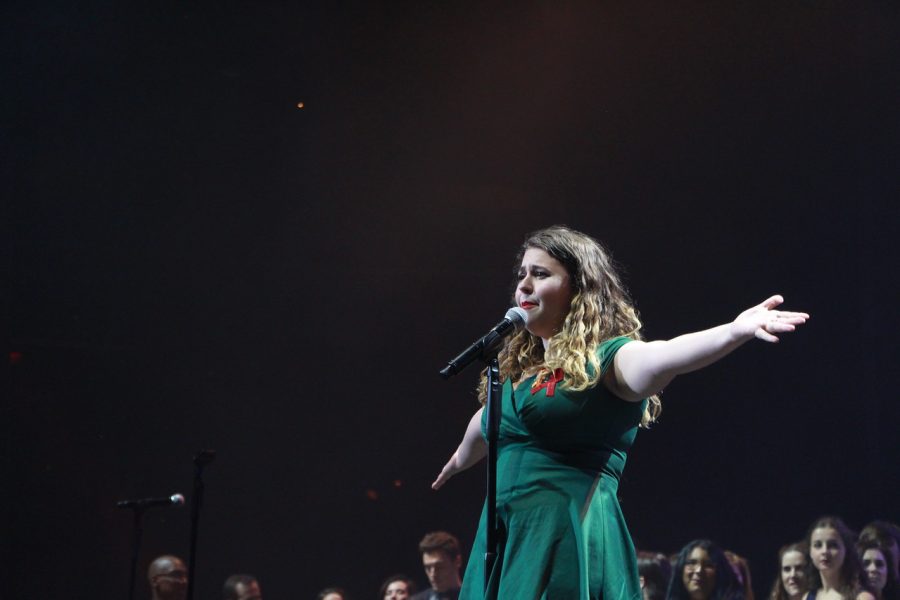 On April 16,  the Parkland community gathered at the BB&T Center in Sunrise for a night of laughter, crying and singing. Singers and songwriters from the Broadway community and Marjory Stoneman Douglas High School came together for the concert "From Broadway With Love," a benefit concert co-founded by Broadway Records producers Van Dean and Yael Silver.
"The idea originally came to me because I did this for Sandy Hook, and then again in Orlando, and now here," Dean said. "This one was thought of within two days after everything happening, and we said we needed to do this again for Parkland. We also knew it was going to be different, so we wanted this to be more focused on what the community has been doing, which is speaking out and really be so eloquent and powerful."
The concert gave MSD students the opportunity to share their voices and feelings. Drama teacher Melody Herzfeld presented a project that was first shown to her by Sam Willmott, the writer of "Yo Vikings." He told the students to write poems or half of songs and submit them to a group of Broadway composers who wanted to help.
"I've never written a song before, and it all kind of came to me in one night," freshman Ally Reichard said. "I wrote it in half an hour, and I had a melody for it already because that's just how my brain processed it. I submitted it, and Bobby picked my song, and then collaboration skyrocketed back and forth from there."
Students were also able to participate in the concert even if their song was not picked. A student choir was made up of a combination of MSD and other Broward County high school drama programs to sing alongside some performers.
"I think that it is all so insane because this would never ever happened before," sophomore Andrea Pena, who co-wrote "Shine," said. "I think it's so cool that kids are being able to perform the songs they wrote with the people they look up to, especially within the Broadway community."
At 7 p.m., the concert began with "Mamma Mia" actress Carrie Manolakos singing "Hallelujah" with the student choir. Following their performance, Parkland resident Deborah Cox sang "I Will Always Love You" while images of the 17 victims flashed on the screen behind her.
Singing his rendition of "Man in the Mirror," Erich Bergen belted out the lyrics alongside the student choir. Bergen added twists and spins to the performance, winning over the crowd.
"I'm certainly not important alone, but what I think is fantastic is the whole Broadway community coming together on their day off to come down and support," Bergen said. "I think it's inspiring in numbers and not just one person. Just being a part of a community helping another community, especially a group of artists, is amazing, and it's been cool to see all of the theatre kids and people I'm going to be in competition with when they move to New York and try to steal my jobs."
To add comic relief to the heaviness of the concert, "Crazy Ex Girlfriend" star Rachel Bloom sang "Buttload of Cats" twice, both the clean  and explicit version. She was also joined on stage by her co-stars Donna Lynne Champlin and Vincent Rodriguez III, as well as a group of student "cats" who freestyle danced along.
"First of all, I'm really flattered and ready to help in the best way possible, which for me is singing a really silly song about cats," Bloom said. "… I'm just amazed that this horrific thing happened to you two months ago, and now your here at this concert and are able to articulate what you feel and use whatever feelings you have to make the world better."
The fan favorite of the night, "Glee" star Matthew Morrison, performed songs from his show "Finding Neverland" and took a video of the audience to post to his Instagram page. Additionally, he performed "Somewhere Over the Rainbow" with senior and "new best friend" Kali Clougherty.
"I'm almost 40 years old, and I have not seen a movement like this in my lifetime," Morrison said. "It's incredible what you guys have done, and you're all very inspiring to me. I wanted to come here to lend my support and my voice, especially since I'm moved and I haven't seen anything like this before. It's amazing that kids can lead the charge and do things that adults can't do."
Additionally, the Dance Theatre Extreme Team performed to honor Jaime Guttenberg, one of the 17 victims who was on the dance team. They danced to "Sort Of," which was sung by "Wicked's" Jessica Vosk.
Closing the show, Andrea Pena and Sawyer Garrity performed their original song "Shine." Joining them on stage was the whole cast of "From Broadway With Love" and the student choir.
"I'm really happy about the concert, and I think it's going to help everyone a lot," junior Ashley Paseltiner said. "Our big message with 'Shine' is to help our community heal, and I think it's really nice that Broadway is coming to help us do that."
"From Broadway With Love" has been a way for performers to come together to help Parkland cope one step at a time. With the Drama program being very prominent on campus, students were able to "shine" and use their voices to heal the community.