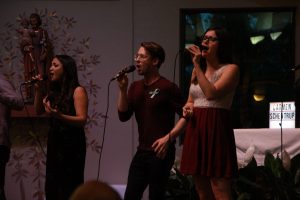 On April 22 at 7:30 p.m., the friends, family and community who loved Carmen Schentrup gathered at Mary Help of Christians Church to attend a benefit concert held in her memory. Because Carmen was the founding president of the A Capella Club at Marjory Stoneman Douglas High School, her friends decided to invite the New York-based a capella group "Backtrack Vocals" to perform for the community.
The entry price was $10, with all proceeds going towards the ALS Association in honor of Carmen. In the future, Carmen dreamed to cure ALS, also known as Lou Gehrig's Disease or Amyotrophic Lateral Sclerosis, a disease that had affected people that were close to her.
Backtrack Vocals is a group consisting of five members: Mallory Moser, Melissa Jordano, Mike Hinkle, Andrew John Kim and Johnny Buffalo. They were invited to come down to Parkland by MSD alumna Ali Work, the daughter of guidance counselor Debra Work. Together with her sister Remi Work, senior Kara Frasca, senior Amanda Hall and senior Suzanna Barna, they organized the singing group's travel and lodging, as well as the concert's venue and decorations.
The concert began with Hall giving a speech to introduce the artists and to explain why she decided to organize the concert. Hall was Carmen's best friend and spoke about her love for music, theatre and performing. Her wish was to honor her friend with the things she loved, with the proceeds going towards her dream in life.
After Hall's speech, the group opened the show with their renditions of "Stand by Me" and "Ain't No Mountain High Enough," getting the crowd clapping along to the beat. The concert continued with a capella versions of popular songs like "Roar" by Katy Perry, "There's Nothing Holding Me Back" by Shawn Mendes, "Shut Up and Dance" by Walk the Moon and "Count On Me" by Bruno Mars. They also showed off their creative side with a medley of Beethoven's greatest symphonies and a mix of popular songs "Let Me Love You," "Cold Water" and "i hate u, i love u."
Halfway through the show, Barna made a brief speech about her relationship to Carmen and how much it meant for the organizers to see the turnout and the contributions they were making towards her dream. She also announced that the benefit concert had raised a total of $1,650 for the ALS Association with the proceeds from tickets and additional donations.
"Carmen attended my bat mitzvah in eighth grade, and in high school we were A Capella Club co-presidents together," Barna said. "I remember always trying to get our friends to sing, or whatever sounds they could make, in the club. It means so much for Backtrack to be here tonight and we really appreciate them for coming from New York."
A highlight of the show included the group allowing senior Diego Pfeiffer to show off his musical talents and accompany the performance of "How Far I'll Go," a number from the Disney musical "Moana."
"I was an accidental participant in the concert, but I highly enjoyed it," Pfeiffer said. "The group was fantastic and their vocals were supreme, however the music was all that much sweeter when you know it would be donated to a worthy cause. It is my privilege to continue singing and promoting change in Carmen's name and fulfill the dreams she shared with us before she left."
The last two numbers of the show were bittersweet, with a cover of "Amazing Grace" and a microphone-less, bass-less version of "Over the Rainbow," a song from the 1939 film "The Wizard of Oz." The concert concluded with a statement from the group's leader and manager, Mike Hinkle.
"This is easily the most special thing we've ever done," Hinkle said. "I certainly feel a lot of love in this room tonight."
Carmen's parents, Phil Schentrup and April Schentrup, also addressed the audience, choking up as they reflected on the past two months and the support they have seen from the community.
The Schentrups continue to honor Carmen's legacy through Carmen's Dream, a fund dedicated to curing ALS, starting with the $5,628.84 that Carmen saved in her bank account. The fund has currently raised over $60,000.