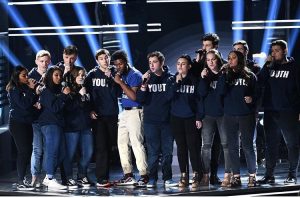 Many Marjory Stoneman Douglas High School students have received multiple opportunities to join artists of varying fields to spread awareness for gun control since the event that occured on Feb. 14. In the early weeks of May, a select group of students from MSD's Drama and Chorus were invited to attend the Billboard Music Awards. Sophomores Jared Block, Alex Moscou, Ethan Kaufman, Milan Parodie, Baisgy Alvarez, Jayda Feliz and Bailey Feuerman; Juniors Kelly Mathesie, Euan Beith, Rachel Starikov and Adam Alhanti; and Senior Demitri Hoth excitedly accepted the invitation to Las Vegas, Nevada, to sing alongside Shawn Mendes and Khalid.
The students flew out to Nevada and checked into their hotel on May 19. Later that day, they practiced the song "Youth" from Shawn Mendes' album. After practicing in a dressing room with Mendes' manager, the students described Shawn as "down to earth" and "very approachable" due to his casual introduction.
"As we were practicing the song with Shawn's music director the door opened and Shawn casually walked in and introduced himself," sophomore Alex Moscou said.
The day of the BBMA's was filled to the brim with activities and practice sessions for the MSD students to ensure that everything ran smoothly. The students woke up and indulged in a large breakfast buffet before attending dress rehearsal. Upon arrival at the MGM Grand Arena, the group received their credentials and walked to the appropriate location to watch the dress rehearsal take place.
"We saw Ariana Grande, Kelly Clarkson, Dua Lipa, Shawn Mendes, Khalid, Normani, Demi Lovato and many more celebrities rehearse their songs and we got to rehearse too. It was such a breathtaking experience," sophomore Jared Block said.
Following the dress rehearsal the students got changed into what they would wear to walk the red carpet. The red carpet was filled with celebrities such as Grace Vanderwaal, Julia Michaels, Derek Hough, Alyson Stoner, Danielle Bregoli, Mason Ramsey, Darren Criss, Patrick Starrr , Taylor Swift, and many more. The students even handed out their "Spread Art Not War" and "#MSDStrong" shirts to the celebrities that they met on the red carpet.
Subsequently, the students went into the dancer's dressing room to get changed into their "Youth" sweatshirts for their performance. From then on they patiently waited for their turn to go on stage and perform.
"Performing at the BBMAs was an incredible experience that I will never forget," sophomore Feuerman said. "The song youth truly represents what us students are going through, and performing allowed us to continue to spread our message. That is why I'm extremely grateful that Khalid and Shawn thought it would be a good idea to include us in the performance."
All of the teens embraced this opportunity to spread awareness for stricter gun control. It was an unforgettable night for many and inspired young people to work hard to accomplish their goals and reach their full potential.