MSD students organize a walkout and sit-in to protest administration reassignments
Brianna Fisher
November 27, 2018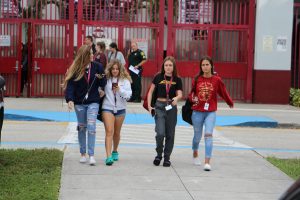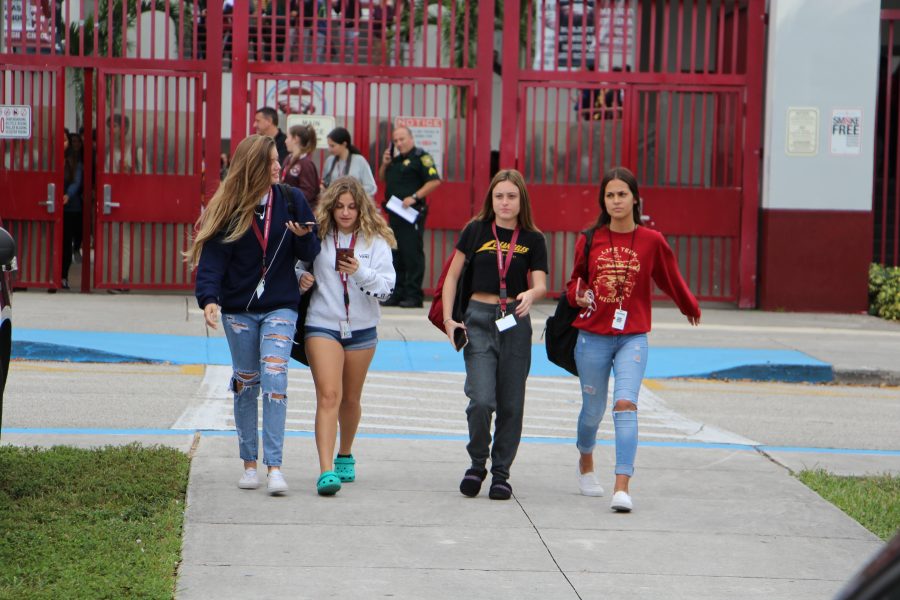 In response to the reassignment of Assistant Principal Winfred Porter, Assistant Principal Denise Reed, Assistant Principal Jeff Morford and Security Specialist Kelvin Greenleaf, many students took to social media to plan various activities throughout the day of Tuesday, Nov. 27. The first event was a walkout at 10:48 a.m. and the second was a sit-in in the office at 1:15 p.m.
Word spread through social media on Monday, Nov. 26 following the announcement of the removal of the four well-known administrative figures at MSD. Messages were spread through social media about a walkout scheduled for 10:48 p.m. to protest their removals and to advocate for them to be brought back.
"The reason for the administrators being reassigned to another school is really unnecessary because that hurts their reputations and how they feel," junior Lily McMullen said. "It's really heavy to blame somebody for such a tragedy and something that happened that nobody was prepared for."
When the bell that signaled the end of second period rang, many students walked off of campus through the front gates. Students were made aware that they would be allowed back onto campus.
"They are continuously beating down on the fact that we need our family and for the MSD family to stay together so the fact that they are trying to pull us apart at such a time like this is insensitive towards the students," junior Milan Parodie said. "We are the ones that have to be here everyday, go through what we go through everyday here and those administrators who left went through what we went through with us. I would never say that they did nothing to help like Mrs. Reed helped out with the counseling afterwards, Mr. Porter helped my brother that day and took him to the office so he'd be out of harm's way, like all of them contributed in amazing ways, and they do not deserve to have to leave after pointing fingers and playing the blame game."
Instead of completely walking off of  campus, some students formed groups on the grass outside of the school to protest their removal. While standing outside, students chanted 'bring them back' while news helicopters flew overhead capturing the event.
"From this I want awareness and honestly I want them back; I want Mr. Porter back, I want Greenleaf back, I even want Morford back," McMullen said. "It's not fair since it's what we're familiar with and what we know is them and our community because we know what we went through together, and people coming in like new people who don't understand, it will just make it harder for the students."
The second event that took place was a sit-in in the front office, where students sat on the floor, holding posters demanding that their administrators be brought back. To acknowledge the students, Assistant Principal Daniel Most and teacher Danielle Driscoll tried to answer any questions that the students had.
"I'm here today because I feel as if it is insensitive and it does not make any sense," senior Naomi Davidson said. "You cannot just go to a school and take people out who have been here the longest and have seen people grow since freshman year. If you have a speculation or idea about something you can't get up out of nowhere and take someone from their job. You have to ask questions and ask questions to the right people."
After about thirty minutes of questioning from students and receiving answers from faculty, Principal Ty Thompson came to address the students. Thompson gave his full support to the students and the use of their voices.
"There is a lot of blame to go around, let's put it that way," Thompson said. "We feel here at the school that we did what we needed to do on that particular day. You know these people, but, just like everything else, there are sides of everything. Hindsight is always 20/20. There is this commision that is putting together this report that hasn't come out yet and when it does it will be interesting to see what it says because it was supposed to be a list of recommendations. It was supposed to look at what did or did not happen at MSD prior to and after and what we can do to avoid that moving forward. Until these policies get in place, I feel that we have followed the correct polies. I'm with you and I feel the same way."
When Thompson finished answering questions, the students stayed in the office until the bell rang at 2:40 p.m. Despite the informalness of the event, some students believe that they are more informed now than they were before.
"I am pleased with the answers that we have gotten," junior Breanna Green said. "Something that was cleared up today was that Superintendent Runcie was the one making these decisions and I was confused who was calling the shots so I'm glad that I came here today."
Because the reassignment was completed by the district, Thompson now recommends emailing and calling the district to make sure that they are aware of the unrest at MSD. Additionally, Thompson urged students to attend the meeting with Superintendent Runcie at Piper High School on Tuesday, Nov. 27 at 6:00 p.m.