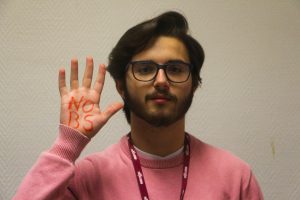 In conjunction with the University of Miami, March for Our Lives has started a social media challenge dubbed the #WeCallBS Challenge and has specifically reached out to teachers and students at Marjory Stoneman Douglas.
The social media challenge was proposed by the UM Capstone class for PR students called Campaigns, taught by Professor Heidi Carr. This course requires its students to connect with a business or organization to create a campaign for them.
"This summer I reached out to March for Our Lives  to see if it'd be possible if we could work with them. I heard back and they said yes that sounds terrific," Carr said.
The class has been working since the semester started in August. Members of March For Our Lives, such as Lauren Hogg, Delaney Tarr and Sophie Whitney, got to talk about the future goals of the group.
"The message that we got from them is they really wanted something that would take March For Our Lives into colleges and get their target audience, which is very important to us. Whenever you're dealing with PR, you want to know who you're targeting your message to, and they wanted to target the message to 18-29 year olds," Carr said.
The first step the group took was to conduct background research. They analyzed March For Our Lives specifically and their target demographic between ages 18 and 29. This included research on things like social media, merchandising, accomplishments, the messages it puts out and more.
Next, they did primary research, where they talked with real people to get fresh information.
The survey included questions such as;  Have you ever heard of March For Our Lives? What is your perception of the organization? Would you be willing to join a college chapter? What kinds of events do you prefer?
The class determined through their research that, while March For Our Lives has a tremendous social media following, especially amongst its leaders, March For Our Lives has not engaged its following by a social media challenge yet. From this research, the class decided that one of many of the pursuits that March For Our Lives should take on is a social media challenge and, thus, #WeCallBS was created.
The challenge involves people writing "No BS" on their hands, in reference to Emma Gonzalez's viral speech of the same name, taking a photo of themself and posting it on social media. Those that take part in the challenge are then encouraged to caption the photo, "I'm standing with March For Our Lives and calling BS on policy makers and the NRA. Join me in ending gun violence by reposting this caption with your own "No BS" pic. And it's called the #WeCallBSChallenge".
Through this challenge, the class hopes to encourage people to sign the March For Our Lives petition called, "An Act to Protect and Save Your Children", which can be found on the March For Our Lives website. The goal of the petition is to demand that legislators take action on gun control.
"We hope to encourage those participating in the challenge to sign the petition, because we saw that it is about 40,000 names short of its goal, so we think this is gonna easily reach way more people than that," Carr said.
Carr contacted AP Government teacher Jeffrey Foster to assist in the class' project. Foster's students had their pictures taken with "No BS" written on their hands. These pictures were then delivered to Carr's students and made into a video, which was then presented on Monday, Dec. 10 to the UM staff and the March For Our Lives leaders.
March For Our Lives and UM's Capstone class will continue to work together on other proposed projects like a college tour and a celebrity cover of the song "Shine", written and recorded by seniors Sawyer Garrity and Andrea Peña, all to continue to push the message of March For Our Lives and encourage change.