Varsity baseball team anticipates second state championship
Jordan Ruddy
February 26, 2019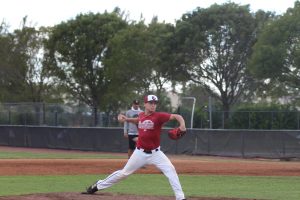 Eagle nation, it's that time again. The Eagles varsity baseball team is back for another run at the state championship. The Eagles face tough opponents to open up their 2019 spring season starting with a game against a strong St. Thomas Aquinas team.
The Eagles have a talented team this year under coach Todd Fitz-Gerald. Fitz-Gerald is entering his eighth season with the Eagles. Under his leadership, he has had successful seasons making deep playoff runs every year, and a national championship in 2017.
"I am most excited about the team, the seniors on the team, the camaraderie and the enthusiasm in the program, as well as our great coaching staff," Fitz-Gerald said.
The Eagles are led by seniors Hunter Fitz-Gerald (5), Kevin Heinrich (22), Kyle Yeoward (32), Gabe Cabrera (18), Louis Esposito (26), Andrew Jenner (1), Thomas Pogacsas (9), Luke Schiltz (2) and Gary Swanson (6), most of whom are committed to top collegiate programs around the country.
The Eagles are also backed by many talented juniors who have showed their abilities over the past few years. Coby Mayo (21), the 6'5 third-baseman, had an incredible season last year with 7 home runs and .384 batting average. Colin Flynn (23) and Vincent Gallo (16) look to continue to stay strong and consistent behind the plate. The strong armed and speedy outfielder, Jhan Ledezma (3) is also coming off a strong season. Ledezma and Flynn's quick bats and Mayo's defense will help the Eagle's offensively and defensively.
Senior pitchers Heinrich and Yeoward – both committed to top Division 1 college programs – throw over 90 MPH. Yeoward's wicked curveball and Heinrich's tremendous arm strength make them tough players to hit off of. They are supported by junior relievers Kane Piccininni (27), Luis Fuentes (21) and Coby Collins (30). This pitching staff is one of the best in the state by far. Hitting off of any of these players will be a major challenge for any team.
The Eagle's 12-1 home record last year and .750-win percentage was one of the best in the state last year. With the talent they have this year, they will be a hard team to stop.