Faculty beats students in annual kickball game hosted by FEA
Fallon Trachtman
March 11, 2019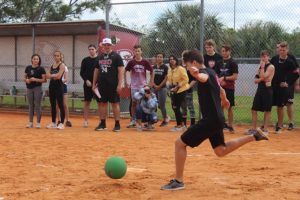 On Thursday, March 7 at 1:30 p.m. the Future Educators of America club at Marjory Stoneman Douglas High School organized a kickball game for faculty and students.
English teacher Felicia Burgin is the host of the FEA at MSD. FEA is responsible for hosting projects for the county along with allowing students to experience what it is like to be a teacher. One of the many events that they plan each year involves faculty and student interaction. The purpose of this event was to allow students and teachers to bond in a way that is not academic in order to build stronger relationships. This year, the club decided to host a faculty vs. students kickball game.
Although Burgin is the host of the FEA, she and her students worked together to organize this event. Junior Gage Gaynor, a student who is close with Burgin, helped immensely with the planning and student team recruitment.
"We worked together," Burgin said. "My students came up with the flyer, I got the hotdogs, and they cooked them in Chef Kurth's room before the game. As far as getting the teachers' team together, I did that, but Gage got the student group together."
When game day finally came, Burgin was shocked at how amazing at the outstanding sportsmanship of the student team.
"They came out dressed up, they were all wearing black, and some of them even used tape to put numbers on their back! I had nothing to do with that," Burgin said.
The game was an overall success; the students and teachers bonded and had a fun time.
"It was such a great experience to be able to interact with my teachers in a more personal way and bond over kickball. Being with everyone laughing and having a good time was awesome," junior Arielle Hafetz said.
The faculty ended up winning by one point and the final score was 10 to 9. The teachers suspected that the students had let them win, but Burgin appreciated how caring and respectful they were.
"They were letting us get on base, but then we got some runs and then when they tried to get control of the situation we ended up winning," Burgin said. "We would have never won if they weren't kind enough to let us get on base, which I thought was really sweet."
FEA is looking forward to their next faculty vs. student kickball game next year.