Pittsburgh Steelers' Linebacker Devin Bush speaks to MSD students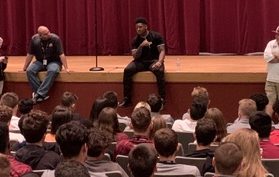 Charlie Goodman
October 31, 2019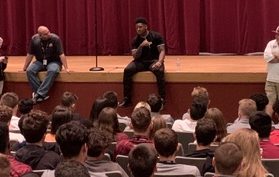 On Oct.17, Pittsburgh Steelers' Linebacker Devin Bush came back to his alma mater, Flanagan High School, to have his jersey retired.
Bush wanted to make the most of his week off, so he visited Marjory Stoneman Douglas High School to speak to students about his life.
The linebacker spoke on how determination and hard work can help individuals achieve their goals, inspiring the students in attendance.
"When Mr. Bush visited the Eagle's nest to greet our determined souls, he instructed us and painted a new picture in our head where we can envision a brighter future encapsulated with opportunities and delicacies," senior Jacob Bigelman said.
The prospect of having a professional athlete or celebrity in the building energized the student body and the message Bush brought reached the youth, making it incredibly powerful.
Many football players and leadership students attended the private event with open minds and gained inspiration from the experience.
"For those who thought that their goals and dreams were impossible to attain, students can now envision a brighter, better and brilliant future for themselves where they can be fulfilled mentally and physically," senior Bilal Andha said.
Many of the challenges that Bush faced growing up have paralleled many of the student's experiences.
"I learned how he balanced athletics and academics in college while playing a D1 sport. It is quite impressive" junior Sammy Fisher said.
Fisher is committed to playing Division 1 lacrosse at Elon University starting in the Fall of 2021.
The messages that Bush brought to the table resonated with high school students who were able to relate to the star linebacker who is in his early twenties. His experiences as a high school student are recent and, therefore, make him relatable to many students.
"Without Mr. Bush's words of wisdom and guidance, my outlook and perspective on the upcoming challenges that I must endure would be entirely different than what I originally perceived," Andha said.
With a substantial number of athletes and celebrities that either grew up in or are currently residing in South Florida, it is quite possible that MSD could see others like Bush come to campus and impart their wisdom as well.