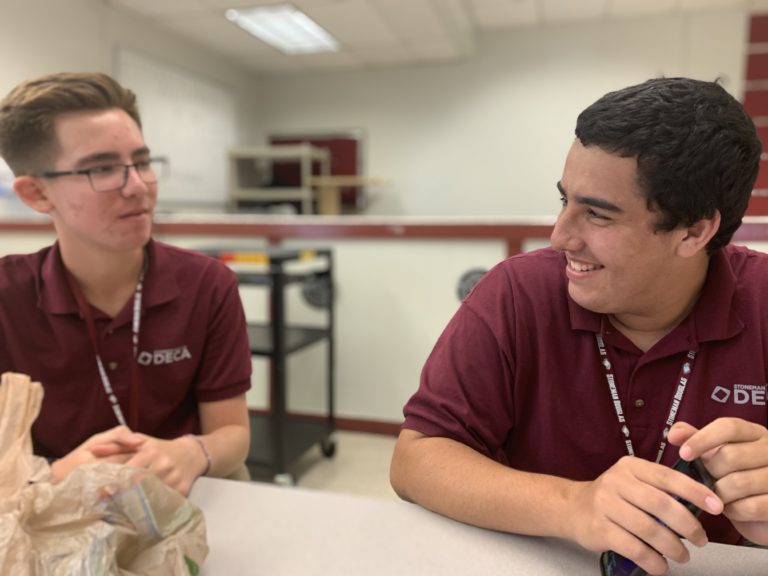 If asked to reflect on high school, any student would be flooded with memories and experiences that most likely span a full wheel of emotions.
What first comes to the mind for a student can quite frequently be described as their most vivid, clear interpretation of these crucial years, but it's also important to attain the peripheral memories that help complete the image of what a student will take with them from Marjory Stoneman Douglas High School.
It's also always interesting to receive feedback from students about their experiences on their years here at MSD because as they all head out to achieve success in the future, this will be the place to which they can trace back most of their memories.
Given such truths, it is important to hear what students at the school say about their experiences, starting with those who have the most tenure: seniors.
"I think MSD has been a microcosm of life. You learn about cooperating with others, balancing activities, managing your time and trying to maintain mental health. As much as it gets difficult I have learned valuable life lessons these past four years," senior Eddie DeGregorio said.
There truly is a lot to be learned from the high school experience, like how the growth, social stratification and harsh competition within high school all collaborate to create a uniquely mature environment for the youth.
Change over time is also one of the most fascinating revelations of grades nine through twelve and seniors have the most ability to reflect on that.
"I'm definitely leaving Douglas as a different person than when I got here. I used to be unsure of who I was but now I leave confident in myself and looking forward to growing even more next year," senior Noa Golan said.
So many students step foot on campus at just fourteen years old as very immature boys and girls and leave as young men and women, ready to change the world.
A common theme amongst students is to believe that their time at MSD has in both positive and negative ways forced them to mature and grow as an individual.
After the horrific events of Feb. 2018, MSD students were forced to include a face-to-face with tragedy to their list of prominent high school experiences.
"I would never have thought it would be us facing that darkness, or us in the national media landscape, yet in this day in age, anything is possible anywhere. High school taught us that one for sure," senior Tyler Hersch said.
Ostensibly terrible, the tragedy did spur some incredible moments of community. Thousands of neighbors and classmates came together to heal.
The message received here is that love can conquer hate. This is truly an incredible concept to learn as a youth, despite the tragic roots.
"I think at all high schools in America, teens are put through the wringer in high school. They grow a lot from the hard moments. Here at MSD, we have a special circumstance and incredible weight to bear, but it will only make stronger and more determined alumni," senior Sam Hendler said.
The graduating class of 2020 will have lived through one of the most unique high school tenures of all time and there is so much to be learned from the experience. MSD's students will soon be headed to college and will be prepared to deal with anything they face.
In just a few months, the whole 2020 class will know where they will continue their academic and personal growth in the fall but just for the moment, it is certain that the idea of graduating and the prospect of the future will excite the student body.
Students will launch future stages of their life all over the state and the nation.
"I can't wait to see where all my friends are off to for next year. I'll be able to know where I'm going to want to make visits to and who will be going to school near me. It's all so exhilarating," senior Sari Kaufman said.
While this is all very exciting, there's also something to be said for the sadness students will face when they depart MSD.
"We've all made such a strong emotional connection to the school and our home friends over the last four years. Possibly fading from those relationships and memories is a scary thing that I simply haven't completely processed just yet," senior Zach Cohn said.
The relationships and connections in Parkland are so developed that, for a lot of students, it's hard to imagine leaving here. On the other hand, the bonds made in high school are likely to be eternal and simply never fade. The students in MSD's class of 2020 have such a profound understanding of each other that in the future, there will be a connection forever.
"To reflect on a single most memorable moment would be nearly impossible, but I know that I've learned so much here about myself, our community and society as a whole. I'll never forget MSD and the lessons I've experienced. I cherish this school and my classmates and will do so for the rest of my life," senior Harris Jaffe said.
Seniors will be in school for a few more months and then graduate in June and will never forget the memories of their four years at MSD.