MSD DECA holds a drive-by celebration for their seniors at Pine Trails Park
Ivy Lam, Editor-in-Chief
May 30, 2020
On Saturday, May 30, DECA seniors from Marjory Stoneman Douglas High School were invited to drive by Pine Trails Park to be celebrated by fellow officers and DECA teachers. The event took place at 11 a.m. and required participants to wear masks amid the coronavirus pandemic.
The idea of the senior parade came from Sharon Cutler, one of DECA's Academy of Finance advisors at MSD. With many people conducting birthday drive-bys on social media, she was inspired to have one for graduating DECA seniors since their last year in high school has been impacted by the ongoing pandemic.
"It was so great to see our seniors today. I wish we could have hugged but I'm confident we will be in touch with them as alumni," Cutler said. "I'm looking forward to seeing them soar in their college and career."
New officers for the 2020-2021 school year were asked to attend, with many crafting posters congratulating the seniors. Furthermore, DECA advisors Lisa Webster and Mitchell Albert attended as well. Everyone sported DECA apparel and the drive-by lasted till 12:00 p.m.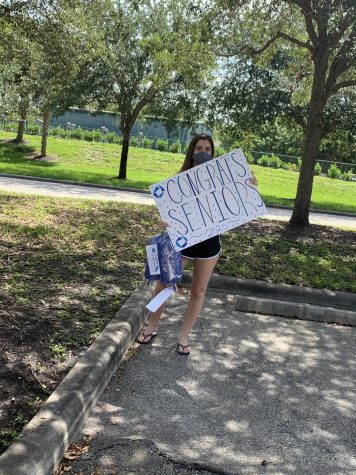 "My co-President Lexie Sealy and I have been in charge of hosting and conducting the senior parade," Lexi Tracton, the incoming DECA co-President, said. "It has not been an easy task to organize this parade during COVID-19, but it was worth it to see our seniors happy."
Along with distributing graduation stoles, the officer team came up with the idea of custom MSD DECA blankets. With the gift in mind, the blankets were planned and made in time to be given to the seniors near the entrance of the park.
"I hope that the senior parade will remind the seniors how loved and cherished they are," Tracton said. "Nothing can replace a graduation ceremony, but I certainly hope that the seniors are able to celebrate their achievements during the senior parade. Our seniors deserve to be celebrated for being such accomplished student leaders in our community."
DECA officers were asked to arrive from 10:30-10:45 a.m. to prepare for the drive-by. With social distancing still in play, the students had to be 6-feet apart from one another. Yet even with the circumstances, they were still able to cheer on each individual senior with music and shouts of congratulations.
"The drive-by was a great way to get the seniors and underclassmen in DECA together in a safe way before the seniors leave for college," Katelyn Taylor, the incoming Director of Social Media, said. "It was a great way to celebrate them and we had fun cheering them on. The best part was being able to see everyone together and being able to honor the class of 2020."
In attendance was 2019-2020 DECA President Mandi Jaffe, who received the prestigious Eagle Award from MSD. The award is given to only four seniors and is chosen by faculty. Since DECA has been a large part of her high school years, Jaffe was excited when she heard about the parade.
"The drive-by acted as a really surprising moment for me. Once I heard about it, I was super excited for the parade, as it was going to act as the culmination of four enjoyable years with MSD DECA," Jaffe said. "Seeing everyone's smiling faces one last time before college was a really memorable experience."
Seniors in attendance were in either one of the branches of DECA, which include Hospitality and Tourism and the Academy of Finance. The students have been involved with DECA for the last four years and the drive-by served as a last good-bye for the 2020 DECA seniors.
"Honestly, when I heard about the drive-by, I assumed it would be like the other drive-bys I've had, but it actually felt more genuine. The officers and their outgoing attitude towards this made it feel more homely and personal," Hunter Dorman, the Vice President of NAF, said. "My favorite part was at the end of the parade when I got to say a final goodbye to the DECA advisors that I had created relationships with for the past four years."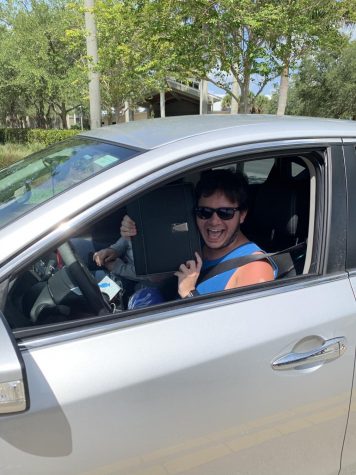 While the drive-by was planned to recognize the DECA seniors, it was the first-time many of the attendees had seen each other since quarantine. The short parade was full of smiles and farewells.
"I hope [the drive-by] is something the [seniors] will remember for a long time. We felt so bad the seniors couldn't have graduation, and I know it's not the same, but I hope it shows how proud we are," Lexie Sealy, the incoming DECA co-President, said. "I think the event went well. I saw lots of smiles and everyone was super happy."
With the COVID-19 pandemic canceling many important events for seniors, MSD DECA still found a way to celebrate their soon-to-be graduates. Although their last year of high school is different from most, the Class of 2020 DECA students had the opportunity to see their classmates and advisors one last time.