[Review] Run quickly becomes Hulu's most watched
Award winning actress Sarah Paulson does not fail to impress, producing yet another work only two months after her hit TV  show "Ratched" was released. Similarly, "Run" quickly made its way to the top, becoming Hulu's most watched work in less than a week of its release date. With a twisting turn of events, this movie had fans on the edge of their seat.
The plot surrounds a twisting story about a mother and daughter tied together through her daughter, Chloe's many disabilities and health problems, living out in a secluded house in a small town. Kierra Allen, portraying Chloe also happens to be one of a few to both play a character in a wheelchair while also using a wheelchair as a source of mobility in her day to day life.
This movie did not disappoint with its beautiful scenery shots, and not to mention the talented and female dominated cast. Along with Emmy award winner Sarah Paulson, portraying Diane Sherman, Kierra Allen has a debut role playing Chloe Sherman.
Throughout the movie we follow the average day to day routine of homeschooled teenager Chloe, awaiting to go out into the real world as a young adult. She is awaiting her college applications and anxiously hopes to go to a school in Washington. From what seems to be a normal life quickly becomes otherwise.
Being so isolated, Chloe had found comfort in her mother as she was one of the only people she interacted with. She was homeschooled and heavily relied on her mother to give her medication. She never thought much of her social life or her mother's obsessive need for control as this was normal to her and what once was that close bonded mother daughter relationship turned into a living nightmare.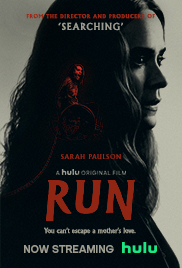 One day when searching through the grocery bags, Chloe discovers some startling information. As more questions started to arise, being the smart girl she is, Chloe started to unravel the secrets behind her mother and past.
As time went on, their relationship changed irreparably as Chloe began to question her mother. Diane wouldn't take this retaliation lightly and took matters into her own hands which is when things started to climax.
This movie has gotten a lot of deserved support with a rapidly growing fanbase which stunned Allen as she is still a college student pursuing her studies and playing the role of Chloe Sherman was her first.
"My professors have been very supportive. I think I'm going to have to send my neuroscience professor an email tonight and be like there's a lot going on," Allen said over an Instagram live with Paulson.
Run is available on Hulu. With so many twists and turns in a short run time of an hour and a half, this movie is a must-see. 
Taking on a psychological twist to the thriller horror genre this movie was unlike any other. Fans were not disappointed in the rather shocking ending but yearn for more in hopes of a sequel as there are many unanswered questions.