Senior Michael Mclaughlin heads to the University of Miami to continue his football career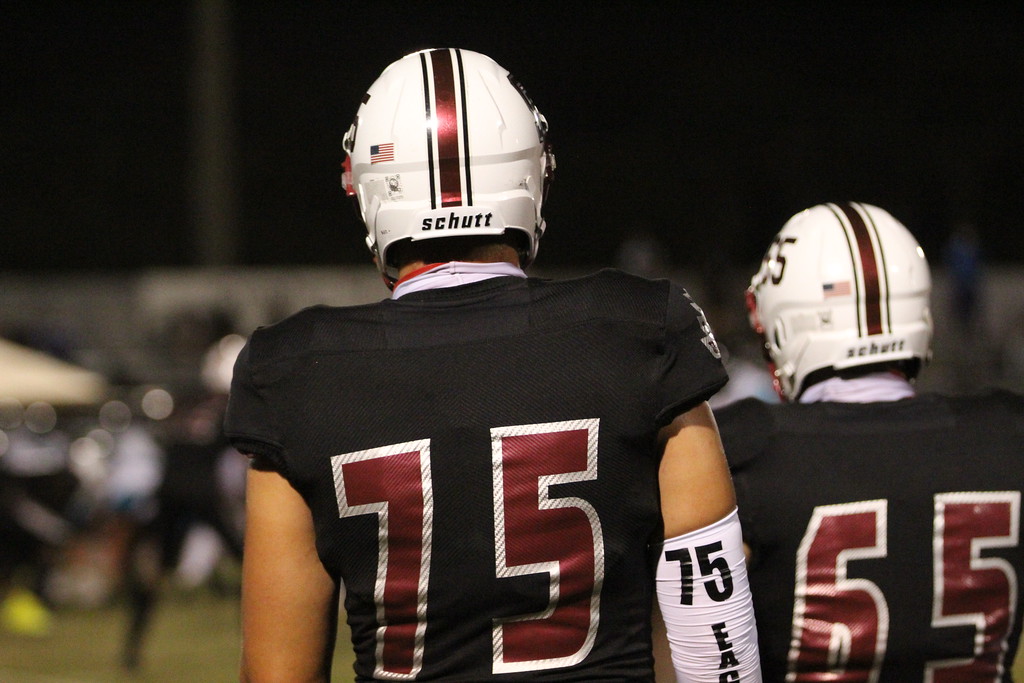 In January 2021, Marjory Stoneman Douglas High School senior Michael Mclaughlin will continue his football career at the University of Miami. Throughout his time with the Eagles' varsity and junior varsity football teams, Mclaughlin wore #75 and was positioned at offensive tackle. 
Mclaughlin's football career started when he entered the second grade. He had an immediate strong connection with the sport and has competitively played it ever since. Growing up in an environment of friends and family who encouraged him into the sport, including his father who inspired Mclaughlin to play, fostered his love for football.
Mclaughlin's substantial relationship with football is due to the game not only giving him fulfilling opportunities but also teaching him important life lessons. 
"Football has impacted my life in a great way," Mclaughlin said. "It creates a brotherhood with those around you and [it] gives you friends that you will have for the rest of your life." 
Mclaughlin's goals were set on football, so he was determined to improve his athletic ability to perform better on the field. His dedicated work ethic continuously improved his talent and made him stand out from other players. 
"I bring the mentality to workouts that if I'm not giving 100%, then why would my teammates give 100%. That mindset is what helps me come prepared and ready to work hard every day," Mclaughlin said. 
Mclaughlin's tenacious state of mind is evident on the field as he proved to be one of the best athletes at MSD. His prominent reputation also allowed him to become a star player for the Eagles, which was eventually noticed by college scouts from the University of Miami.
"Michael is one heck of a football player with his intensity and drive every play. He gives 100% on and off the field. He's not a 4-star for nothing, and he's a terrific athlete all around the board," junior defensive lineman Sean McHenry (56) said. 
However, Mclaughlin's mentality doesn't solely make him an outstanding athlete. It also makes him a formidable teammate. 
"I don't see him as just a football player," McHenry said. "Rather, he's someone who we all look up to. He's a natural-born leader who knows the right things to say at the right time. He's inspired me and many others to continue to push and give it 100%."
Mclaughlin had put in the effort to achieve his goal of extending his football career for as long as possible. His mentality helps him focus on working harder than ever before. 
"My goals to play football at the next level are what drive me to keep improving my game," Mclaughlin said. "I'm proud of what I've done so far, but I still have bigger goals for myself."
After years of service to the MSD football team, Mclaughlin shifts his focus to the next stage of his career and what the future has to offer at the University of Miami. Moving into the intense football played at the college level, he still shows an ambition to improve past what he showed with the Eagles. Mclaughlin is working towards playing at the highest level in the National Football League, which he knows is possible if he continues the progress he has made during his years on the Eagles' varsity football team. 
"He's going to leave a legacy at Douglas," McHenry said. "To me and many others, he's unforgettable."
Mclaughlin's aspiration and determination for success through football and life allowed him to pave the way for all MSD Eagles. As he progresses throughout his athletic career, he will always carry the driving mentality of an Eagle.