Pantone chooses 'Illuminating' and 'Ultimate Gray' as the 2021 Colors of the Year
Julia Landy, Editor-in-Chief, Graphics & Design Editor
January 5, 2021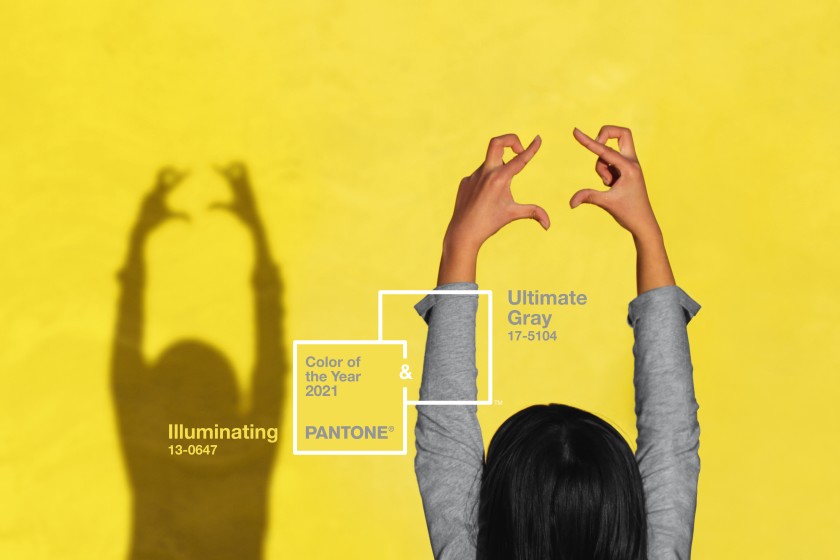 Vibrant optimism and dependability, two rising themes of 2021, have inspired Pantone's choice for this year's "Colors of the Year." On Wednesday, Dec. 9, 2020, Pantone announced 17-5104 Ultimate Gray and 13-0647 Illuminating as the colors of the year for 2021.
Founded in 1963 by Lawrence Herbert, Pantone has created a communicative system of organizing colors for consistency in print and design. Offering services such as color consultation, webinars and color palettes, Pantone has become a leading source of color information, influencing all sorts of design aesthetics and trends. Additionally, the company is responsible for selecting the colors to represent each year.
Since 2000, Pantone has chosen a color to represent their predictions of that year's design and marketing trends. Though typically only one color is chosen, this year Pantone selected two different colors to represent what they believe the theme of 2021 will be. The only other time Pantone has ever chosen two colors of the year was in 2016, when both Rose Quartz and Serenity were chosen to represent the blending of gender, tranquility, mindfulness and well-being.
Illuminating, a vibrant, light shade of yellow, and Ultimate Gray, a soft, mid-tone gray color, represent what Pantone, the self-proclaimed "global color authority," feels the theme of this new year will be.
This year, Illuminating was chosen to represent vibrance and happiness, as the color yellow typically does. It is a lively, bright and cheerful color that represents the optimism that many feel as they enter this new year. The color Ultimate Gray is symbolic of stable dependability. When combined, these two colors convey the unity of hopefulness and endurance. Together, the colors create an uplifting, optimistic and inspiring theme for 2021, which contrasts 2020, a year that many consider as being the worst year.
"Practical and rock-solid but at the same time warming and optimistic, this is a color combination that gives us resilience and hope," Leatrice Eiseman, Executive Director of the Pantone Color Institute, said in a press release. "We need to feel encouraged and uplifted, this is essential to the human spirit."
Pantone's subjective process of choosing the color(s) of the year typically takes around nine months from start to finish. Pantone's team explores a variety of different industries and chooses a color to represent what they see taking place in our global society by analyzing trends in art, travel, fashion and other sorts of media.
The color(s) chosen by Pantone impact a variety of art and design industries. In addition to artistic trends, their team takes into consideration the message that each color they choose conveys to their audience and how the messages of those colors may shape people's experiences during that year.
"I am a firm believer that life can be hard enough, your home should be hopeful and joyful," L.A. actress and designer Arden Myrin told The San Diego Union-Tribune. "What a wonderful decision to pick two colors. The gray, which has been many moments in 2020, bursting through with the bold optimism of the yellow makes it feel like there is hope ahead."
As the year 2021 commences, designers believe that the colors Illuminating and Ultimate Gray will begin to be adopted into all types of creative work and design.